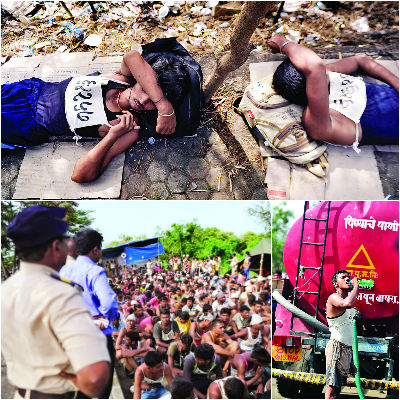 Two deaths, several instances of dehydrated aspirants passing out and allegations of subhuman conditions at venues are the highlights of this year's Maharashtra police recruitment. But officials in charge of the drive blame the candidates for the mess.
Officers overseeing the recruitment process say they have had a tough time managing the crowd of youngsters who had assembled at the venues for physical test.
Assistant Commissioner of Police D Kale tasked with the process at Vikhroli said, "We have made all the necessary arrangements and try our best that there should be no accidents during the physical examination."
Aspirants, most of whom hail from rural Maharashtra, have alleged poor time management by the by organisers that resulted in them waiting for hours in the scorching heat before their turn came.
Responding to this, ACP Kale said, "We are handling thousands of candidates and the process does take time but that doesn't mean that the aspirants are left in the lurch." He said the job of a policeman is tough and once they are in service, long duty hours and physical stress will be part of their daily lives. "If they are not able to handle the physical examination, how will they be policemen?"
When enquired about the stinking water provided at the venue, Kale said they could not be blamed for it as the aspirants would come to the spot after sleeping on platforms, take a bath using the water provided for drinking and even dip their sweat-soaked vests in the drums. "What are we expected to do? To keep a watch on every single aspirant?"
The officer said before the physical test, candidates are asked if they are fit to run. However, they express willingness despite knowing that their body is not upto the mark. Kale also stated that most of the candidates eat whatever they can afford. "By the time they come for the examination, they are already weak and dehydrated," he said.
Additional commissioner of police, local arms, Vijay Chavan said they had kept water tankers, water drums, six ambulances, four doctors and staff at the centre. "We also inform the candidates prior to the run if they have any health-related problems then they should take care of themselves. After the start of the run we also send vehicles behind the candidates so that if someone suffers any problem, he can be picked up."
Chavan added, "Candidates who come for the test are supposed to practise for such events. Some of them even practise for years and there are also institutions that help candidates prepare for such tests."