Defence claims not a single rupee went into the pocket of the NSEL promotor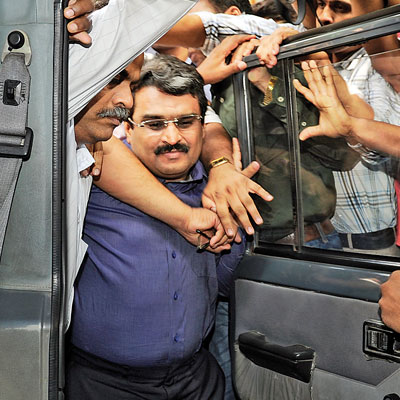 The sessions court on Thursday remanded National Spot Exchange Limited (NSEL) promotor Jignesh Shah and his associate Shrikant Javlekar in police custody till May 15. Shah and Javlekar are accused of cheating scores of investors in the Rs5,600-crore NSEL scam.
Courtroom number 36, where Shah and Javlekar were produced by the officers of the Economic Offences Wing (EOW) of the crime branch, was flooded with NSEL investors, anxiously waiting to know the fate of the duo.
Appearing on behalf of Shah, advocate Mahesh Jethmalani claimed that not a single rupee had gone into the pocket of Shah and that it was possible that the borrowers might have made wrongful gain of the misappropriated money. "As per the EOW, the case is of criminal breach of trust, falsification of accounts and forgery. Shah was questioned by the EOW officers 21 times before he was arrested. In its affidavit to the court, EOW has said that NSEL has fully cooperated and provided all details and data about the exchange. In fact, the exchange had also helped the police in setting up a staff so that speedy recovery of money can be made," Jethmalani argued.
He further stated, "What could be Shah's nature of misappropriation when the money has not come to him? It is possible that the borrowers may have made wrongful gain, if any. There is no trail of funds to show that Shah and Javlekar had swallowed the money. Shah has got crores of rupees recovered for others and arresting him will be a setback to the recovery process."
While seeking police custody for both Shah and Javlekar, the public prosecutor explained to the court the roles of the two and the manner in which the alleged scam was committed. After hearing out the public prosecutor, the court remanded the duo in police custody till May 15.