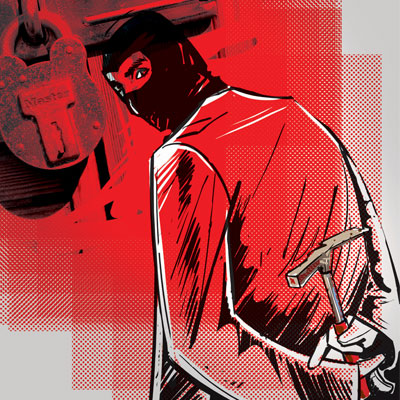 For 67-year-old Mansuk Shah, the money and gold jewellery he had taken out from his bank locker were the last savings he had to treat his wife, who has breast cancer. Little did he expect that he would lose it all soon to robbers.
A resident of Jyoti Apartment on Eksar Road in Borivli (West), Shah returned home on Monday evening after attending a function to find that his house had been broken into and all the cash and money worth Rs9 lakh stolen. The MHB Colony police, who have registered a case of theft and house break-in against unknown people, are yet to make any headway in the case.
Shah's nephew Satyam Bhatt said, "My uncle had taken out the money and jewellery just a few days ago. He was going to pawn the jewellery and use the money for treatment the next day. He also had to pay back the people who had contributed money for my aunt's treatment." Shah's wife has been undergoing treatment for breast cancer at Kokilaben Dhirubhai Ambani Hospital in Andheri for the last one year.
On Monday, Shah and his two children had gone for Bhatt's engagement ceremony in Andheri. "They left around 8am and returned at 7.30pm. When they returned, they saw the front door locks broken and the doors ajar. They went inside and saw all the cupboards opened and ransacked. All the jewellery and cash had been stolen," said Bhatt.
Apart from this, old currency notes, coins, watches and imported pens, PAN card and Voter's ID were also missing. Bhatt added that none of the neighbours had any idea about the incident, after which a theft case was registered with the MHB Colony police.
The three-storeyed building does not have any CCTV cameras or a security guard. "The family is shattered... We hope the police are able to nab the accused and recover the valuables as we are in dire need of the money," Bhatt said.
The MHB Colony police have been questioning the servants and neighbours. "We have not got any clues as yet. It could be somebody who may have noticed the valuables being taken inside the house from the bank. We have questioned servants and neighbours but have not found any suspects yet," said Suresh Kilje, senior inspector.