State board syllabus is not at par with CBSE's syllabus for premier JEE, reports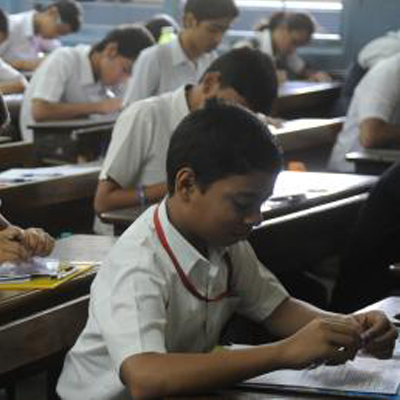 A majority of students who studied in the state board have been scoring less marks in the mock tests preparing for the joint entrance examination (JEE) for admission in undergraduate programmes in engineering colleges across the state. They are worried a lot, as they fear they will not do well in the JEE as the standard of questions being asked is very high and their state board syllabus is not at par.
The joint entrance examination conducted by the Central Board of Secondary Examination (CBSE) and it will be held between April 6 and 9 across the country.
In 2012, the state cabinet approved the department of higher and technical education's (HTE) proposal to join the HRD ministry's single entrance test, called the national joint entrance exam (JEE). State board students will appear in JEE for the first time for admission in state engineering colleges. However, the decision seems to be taken in hurry as the questions being asked in JEE are very tough, compared to the syllabus prescribed in state board. "A majority of students are not able to attempt many questions and the negative marking is adding to their woes. Many students have been scoring less than zero marks in the mock tests," said Rishi Anand, a student. Students take mock tests which is similar to JEE to assess their preparation.
Earlier, the state used to conduct its separate Common Entrance Test (CET) for admissions to undergraduate engineering course. The CET was based on state board syllabus. "Before joining the All India Joint Entrance Exam (JEE), the directorate of Technical Education Maharashtra State should have updated the state board syllabus at least two years in advance," said another student. According to him, the CBSE and state board syllabus is different and many things which is taught in standard VIII in CBSE is taught at standard X in state board. "Students of CBSE board have better knowledge in few subjects as they spent more time with the subjects that we do not have in our state syllabus," said the student.
Now, the JEE is hardly a fortnight away, state board students are juggling among new additional chapters. As per the examination pattern, there is 50:50 weightage to performance in the JEE main and the school board marks, for drafting the merit list for engineering admissions in the state. Only the marks scored in physics, chemistry and mathematics will be considered for the 50% school board weightage. "Scoring in state board is difficult compared to central board, which will also poses as a hurdle while getting admission in our own state colleges," said Anita Mhatre, a student. However, no one from the directorate of Technical Education Maharashtra State was available for comment.