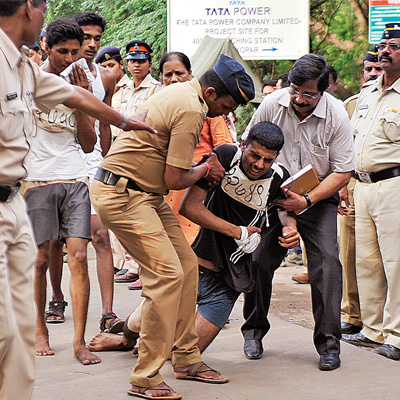 "As the city police chief I am to be held responsible for the death (of candidates) at the recruitment drive," said a sombre Mumbai police commissioner Rakesh Maria, on Wednesday, during his visit to the Ghatkopar recruitment camp to take stock of the situation.
Maria also declared that joint commissioner of police (Crime) Sadanand Date had been instructed to conduct a detailed inquiry into the deaths.
One more candidate died at Platinum Hospital in Mulund on Tuesday night, taking the toll to five. The deceased, Gahinath Adinath Latpate from Beed, had completed his D Ed and applied for recruitment after being unable to find a job. He appeared for the 5km run at Vikhroli on Saturday morning. After he collapsed, he was first taken to Agrawal Hospital and then to Platinum Hospital in Mulund where he died.
Maria said the 5km-run test would now be held only in the evenings. And henceforth, around 100 doctors would be available at the recruitment camp, who will examine the candidates before they take part in the 5km run.
"As all candidates who died were part of the group that attempted the 5km run in the morning, we have scrapped the morning test. Now, the recruitment process that was to get over by June 21, will end only by June 28," he said. "The entire idea of finishing the physical test in three days was to ensure that candidates who come from rural Maharashtra do not have to stay in the city for longer period and sleep in the station and on roads."
According to Maria, Mumbai police have been conducting recruitment since 2011 at the same time and venue. "We had to conduct recruitment in these two months as we have been working on a tight schedule. Earlier we were busy with elections, and post-July there is Ramzan, Ganesh Utsav and state elections," Maria said.
Eight hundred policemen, three additional commissioners of police and 12 deputy commissioners of police have been deployed at four venues for the recruitment process.
Meanwhile, on Wednesday, BJP MP Kirit Somaiya filed a complaint at Vikhroli police station with regard to death of candidates. "We have received a complaint from the MP and it will be forwarded to the crime branch," Mahesh Ghurye, deputy commissioner of police, Zone VII, said.
Over one lakh applicants
The Mumbai police this year received 1.18 lakh applications for 2,570 posts of constables. Of the 1.18 lakh, 52,835 were selected for ground test of which only 30,196 have so far appeared; 13,463 candidates are yet to take the test. The process which was scheduled to finish by June 21, will now be completed only by June 28.