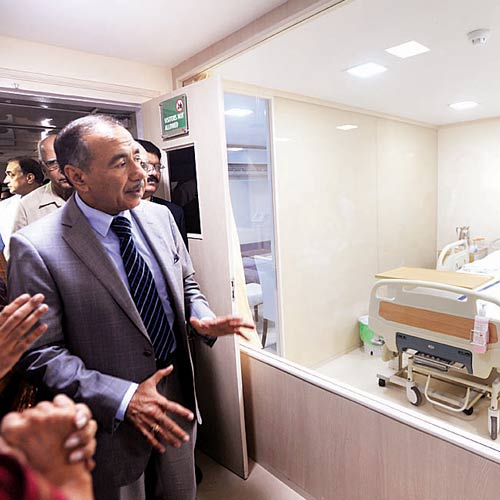 Jaslok Hospital's sophisticated quarantine facility for infectious diseases, a first of its kind in the country, was inaugurated on Saturday. The two-bed facility is in isolated rooms and the Peddar Road hospital plans to increase the room strength in the near future.
dna had first reported on November 8 that the unique set-up will find its way in Mumbai.
Highly infectious patients suffering from swine flu, SARS, tuberculosis, chicken pox and other such ailments will be isolated and admitted in these rooms.
Director, department of infectious diseases, Jaslok Hospital, Dr Om Shrivastav said, "Chicken pox, swine flu, tuberculosis spread due to contact. A person can acquire the infection from a time span of 30 minutes of one-time exposure to as long as five days of prolonged contact with a patient. It thus becomes essential to isolate highly infectious patient."
Only 40-50% acute infection care units of such kind exist all over the world, in the UK, US and Australia.
"Both the isolation rooms have negative pressure chambers that will help the amount of air pressure to stay at 20 kilo dalton. The negative air pressure pushes the dust particles and micro organisms towards the exhaust and effectively expels out of the chamber. Also, special filters known as hepafilters help in cleaning the air in the room, 20 times more effectively than normal filters," Shrivastav said.
"Moreover, the air condition cycle, which changes air 40 to 60 times, ensures there is no infected droplet or particle in circulation around the room. A regular AC room changes air in the atmosphere only up to four times in a day."
The patient will have to spend up to Rs6,000 a day if admitted in the isolated unit, which is expected to start operating from next week.
Civic body-run Kasturba Hospital of Infectious Diseases in Byculla has a 10-bed isolation facility.
However, this facility, which comprises of separate booths in a ward, has no air-conditioning systems and is primarily used to admit swine flu patients.
"We don't admit TB or chicken pox patients in the infectious ward, only swine flu patients. Also, we don't have air-conditioning as the ward functions on principles of natural ventilation," said Dr U Aigal, medical superintendent, Kasturba hospital.
Civic officials, however, feel a two-bed facility will hardly make a difference. "While the set-up will be useful for tackling highly infectious diseases, isolating TB or swine flu patients is not recommended as the pathogens float in the air anyway. Moreover, how many patients can be isolated in a limited facility?" said a senior BMC official.