Passengers say if the hammer for emergency use had been there in the AC bus, more people could have survived the tragedy.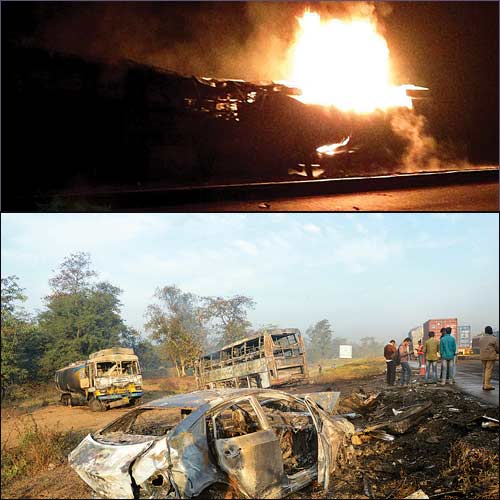 After jumping out of the burning bus, 21-year-old Jeetendra Bhovariya rushed back inside the burning bus one more time.
"My documents, including passport, were with me. I went in to retrieve the documents but couldn't," said Bhovariya who is scheduled to fly to Russia on February 4 on a job assignment at a five-star hotel.
For now though, he's glad to be alive. "This is a new life for me," said the young man, shaken up by the accident. He was among the 22 people on board the ill-fated luxury bus which collided with a tanker.
Eight people, including one of the drivers and the cleaner of the bus, were killed as the bus fire near Kude village in Manor after it rammed into a tanker.
Pune resident Prakash Dwivedi, 30, who works for a private firm, was on his way to Ahmedabad for a business meeting.
"Like many other passengers, I was in deep slumber when the accident took place. Due to the collision, I got caught up in my berth," said Dwivedi who got hurt while trying to extricate himself.
The bus was filled with smoke as there was chaos all around. "Many in the front rows fell unconscious," said Dwivedi who lost all his cash and cellphone. "Death came too close but I cheated it," he said.
Passengers said there was no hammer – a must-keep tool to break open windows in an emergency – nor was there any sign indicating the emergency exit. "People tried to smash open windowpanes but couldn't. I tried to locate the hammer but there was none," said Manish Vyawahare, 42, who had boarded the bus from Pune.
Businessmen Mohammed Khan,24, too hurt his hand while trying to break open a windowpane. "Had the hammer been handy, more people could have escaped," said Khan.
The Agra resident said that this near-brush with death has a hidden message – to value life more. "For the past couple of years, I've been running after money and have almost ignored my family members without realising it," said Khan. "I think it's time to mend relationships and spend more time with my folks."
Mystery couple gets off bus, flees in hurry
The police said they're trying to establish contact with a couple on the bus who fled as soon as the bus caught fire. "The two escaped from the bus, crossed the lane and moved ahead without losing any time," said a police officer. dna managed to procure the couple's number to contact them but it was 'not reachable'.