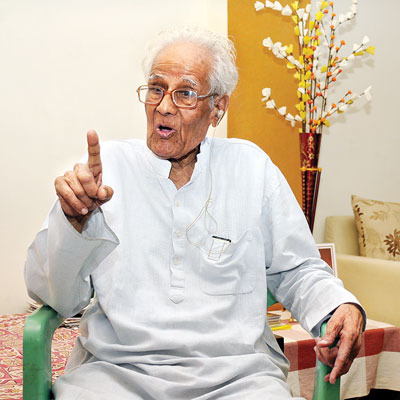 Madhu Nashikkar, 92, a resident of Thane, is busy getting ready to vote in his 16th Lok Sabha election. Since 1952, when he cast his vote in India's first election, he has not missed an election -- be it the Lok Sabha, Assembly or Thane municipal corporation polls.
"All candidates, for who I voted in the past 60 years never won the polls, except Datta Tamhane, who won in 1977 during the Janata Party wave," laughs Nashikkar, who looks forward to April 24 when he will cast his vote, along with his son, daughter and four grandchildren.
"I will use my franchise this time as well, not to make any record of sorts, but it's my duty as an Indian. I urge everyone to do so, even if they wish to press NOTA", says Nashikkar, with a twinkle in his eyes.
Nashikkar came to Mumbai from Nashik in 1942 when he was barely in his 20s and a member of the Congress Socialist Party, a group within the Congress before Independence.
Remembering the days of freedom struggle with great pride, Nashikkar says, "The Quit India movement was at its peak then. I was working with S M Joshi, Barrister Nath Pai and Dutta Tamhane and went to jail twice for 15 and 20 days."
Nashikkar, who lost his wife three years ago, is fit and fine. He is a believer who never performs any puja despite being a Brahmin. He feels all governments have failed to implement family planning, an issue, he feels, should be addressed as top priority.
Nashikkar has never sought any freedom fighter certificate or other benefit and suggests reforms like state-funded campaign, disqualification of MPs on grounds of non-performance and behaviour in Parliament, and an age ceiling of 70.
He scans newspapers and keeps a close watch on Aam Admi Party, which he terms 'inexperienced but ambitious'. He appreciates Sanjeev Sane, the AAP candidate from Thane, who is the son of a freedom fighter, but doesn't disclose who he is going to support.
He condemns the "divisive ideologies" of the Congress, the BJP and the so-called socialist parties and accuses their "flawed" policies for rampant corruption, slow development and unemployment.