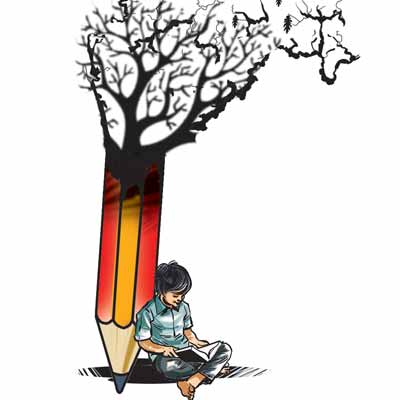 The standard of education in the state, at least at the primary-upper primary level, isn't anything worth writing home about. Among other things, the lethargic approach of the school education department is to be blamed for the state's dismal record. As per the education development index (EDI), in the primary sector, Puducherry tops the list of 35 (states and Union territories), and is followed by Lakshadweep, Sikkim, Himachal Pradesh and Karnataka. Bihar and Uttar Pradesh are at the bottom. In the upper primary section, Sikkim bagged the top place and is followed by Andhra Pradesh and Puducherry.
What is the criteria?
The ranking is based on composite scores that include 24 performance indicators broadly grouped under four heads—Access, Infrastructure, Teacher-pupil ratio and Outcome. The index was prepared taking into account all schools including those privately managed.
How did the state fare?
In the primary school sector, Maharashtra came 13th overall – Infrastructure: 4; Access: 31; Teacher-pupil ratio: 17; Outcome: 14. In upper primary sector, state came 17th – Access: 28; Infrastructure: 7; Teacher-pupil ratio: 17; Outcome: 15.
What is the rule as per RTE Act?
It mandates that there should be a primary school within 1km habitation and an upper primary school within 3km.
Why the poor show?
The past three years have seen no effort on the part of the state to mend the gap.
Money allotted under Sarva Shiksha Abhiyan
Maharashtra got a whopping Rs 1,300 crore under the Sarva Shiksha Abhiyan.
No. of schools and students
Overall, Maharashtra has more than 1 lakh schools and over 1cr students. Of this, over 70% schools are run by the state and local bodies and 70% of the schools are in rural and tribal areas. As per the DISE report, there are 607 schools and 81 madrassas in the state that are unrecognised.
Saving grace!
The state has a low drop out rate and higher enrolment rate of students from reserved category and the Muslim community vis-a-vis their population as compared to many other states.
Access level
The major indicators are density of schools per 10km and ratio of primary to upper primary schools. The state has only 2.47 primary schools and 1.4 upper primary schools per 10km.
Infrastructure
Fulfilling norms of drinking water, ramps, toilet, percentage of female teachers, kitchen shed, etc.
Teacher-student ratio
Schools are required to have 1 teacher for 30 students (primary) and 1 teacher for 35 students in upper primary classes.
Outcome
It's measured on the basis of the number of instructional days, working hours for teachers, change in enrolment over the previous year, participation of SC, ST, OBC, Muslim children, gender ratio, dropout rate and transition rate from primary to upper-primary.
Maharashtra (2013-14)
Access: 0.178 (31st rank)
SC enrolment 13.6 % (population 11.8%)
ST enrolment 11.4 % (population 9.4%)
OBC enrolment 33.5 % (Population not available)
Transition rate from primary to upper primary (unavailable for Maha)
Average annual drop out 1.25%