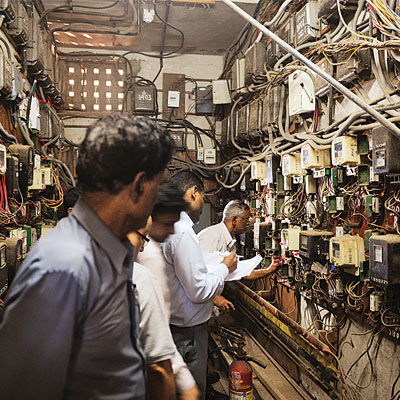 The Campa Cola apartments were constructed on land leased to Pure Drinks Ltd in 1955. The BMC, in 1980, gave them permission to develop the plot for residential purposes. Pure Drinks, along with builders Yusuf Patel, BK Gupta and PSB Constructions, erected seven buildings, two of which were of 17 and 20 floors.
According to residents, while it was being constructed, the builders were issued notices to stop work. They, however, resumed work after paying penalty. But once construction was over, nobody prevented the buyers from occupying their apartments, nor were the buildings stopped from forming co-operative housing societies.
They have been fighting to get water connection for the buildings since 1999. They first went to the high court for water supply and regularisation in 2005. The court asked city officials to investigate, and the municipal corporation then served demolition notices on all flats constructed above the fifth floor.
Residents say they were duped by the builders. According to them, they had bought the apartments believing they would get occupation certificates in due course, as was the norm 25 years ago. After city officials found their flats to be illegal in 2002, they have tried approaching courts and politicians to regularize their flats.
In the same year, HC asked BMC to demolish the illegal flats (above fifth floor). Residents challenged this order in Supreme Court, which in February 2013, asked the corporation to raze the unauthorized portions.
The Campa Cola compound has seven buildings—Midtown, Esha Ekta Apartments, Shubh Apartments, Patel Apartments (two buildings), BY Apartments and Orchid—which have 35 illegal floors containing 90-plus flats. While the builders were granted permission for ground-plus-five floors, Midtown went up to 20 floors, Orchid to 17, Esha Ekta to eight, Shubh to seven and BY and Patel to six floors each.
Since 2005, they have been in litigation with the BMC.