MP-based company hired by the CEO Maharashtra could be behind the shoddy job, say officials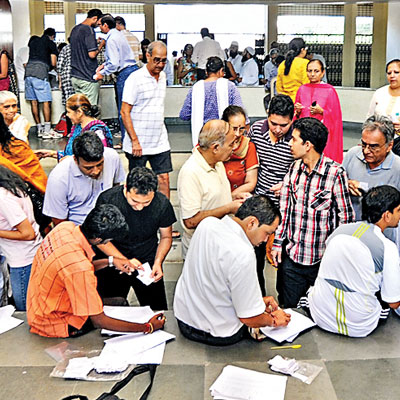 While hundreds of people across Mumbai metro region and Pune couldn't cast their vote because their names were missing from the voters' list, it has now emerged that a private IT company which handled the back-end office of the Chief Electoral Officer of Maharashtra could be behind the shoddy job.
The Madhya Pradesh-based firm – Atishay Infotech Limited – has been hired by the CEO-Maharashtra a year ago. It was assigned the work of Marathi data entry, scanning-cropping of images for the preparation of EPIC (elector photo identity cards) for all districts of Maharashtra and final output as the new photo electoral rolls.
"The Atishay Infotech worked at the back-end office of Chief Electoral Officer of Maharashtra. The mess could be due to the mishandling of the data by them," a highly-placed official at the collectorate told dna.
The official said the collectorate was busy in the poll-related work and hence it would look into this aspect after two days.
Atishay Infotech, which has a registered office at Lamington Road, Mumbai Central, also handles the election work for UP, Jharkhand, MP, J&K, Maharashtra, Gujarat and Rajasthan.
The complaints of missing names cropped up in Jharkhand Lok Sabha and Rajasthan assembly election as well.
Atishay, a private limited company, also handles Aadhar project in Madhya Pradesh, Maharashtra, Bihar, Delhi, Rajasthan, Uttar Pradesh and Chhattisgarh. Another big project which the company has in hand is for preparing smart card for Rashtriya Swasthya Bima Yojna. Company director Akhilesh Jain and Rekha Jain couldn't be contacted.
The EC officials are tight-lipped over the issue. Nitin Gadre, the Chief electoral officer of Maharashtra didn't respond to calls. In an SMS response to the query if an inquiry would be initiated into the fiasco and if any action would be taken on the company, Gadre asked us to refer the interview of Sudhir Tripathi, the Election Commission of India officer and in-charge of Maharashtra, published in a tabloid on Friday.
Denying all charges of mishandling of the data, Tripathi had told the paper that it was people's fault as they didn't bother to check their name in the list before election.