Increasing number of vehicles is leading to more traffic jams and that is resulting in frustration among drivers, say cops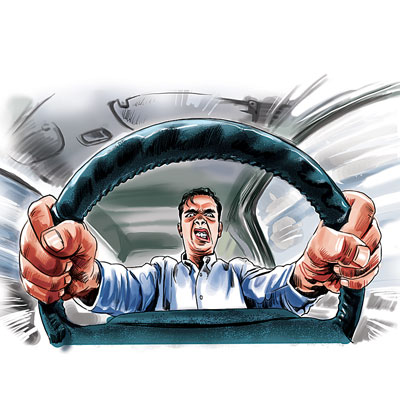 The increasing number of vehicles, motorists' hurry to reach their destinations, and low tolerance levels is leading to a rise in the number of incidents of road rage in city.
On June 2, two brothers, Arfat and Tabish Contractor, who were in a car, abused the conductor of a BEST bus and smashed the vehicle's headlights after their four-wheeler rammed into the bus from behind because the driver had applied emergency brakes to avoid hitting a bike.
In April, actress Monaz Mevawala filed a complaint against an autorickshaw driver, who damaged her car and abused her during a road rage incident. The incident occurred when the driver did not let the actress go even after the signal had turned green and rammed into her when she tried to go ahead from his right.
These are no longer isolated incidents. In the past few months, there have been at least seven incidents of road rage.
Persistent traffic jams in city are leading to mounting impatience among motorists.
There is no data available with the police department pertaining to incidents of road rage as there is no relevant section for these crimes. However, if the police are to be believed, tiffs and brawls on roads are increasing. Reason: Anger and frustration among motorists who spend a good amount of their time travelling from point A to B.
A traffic officer from Goregaon traffic division said everyday there are at least five cases of road rage on the Western Express Highway in Goregaon (East), which go unreported. "I am sure this is the case in every division. Most cases go unreported as the parties, after abusing each other, decide to continue with their journey. However, when it becomes serious, we ask the motorists to park their vehicles and inform the police," the officer added.
Marmik Mehta, a Chembur-based businessman, said, "The traffic in Mumbai is appalling. With jams everywhere, it is very irritating to see a person overtake wrongly, flout traffic norms. I daily spend three hours travelling for work. When someone does something stupid, I feel like getting out of my car and beating up that person."
President of Western India Automobile Association Nitin Dossa said, "The increasing number of vehicles, which is leading to traffic jams and limited road space, is leading to anger and frustration among motorists. Solutions will have to be found to curb such incidents."