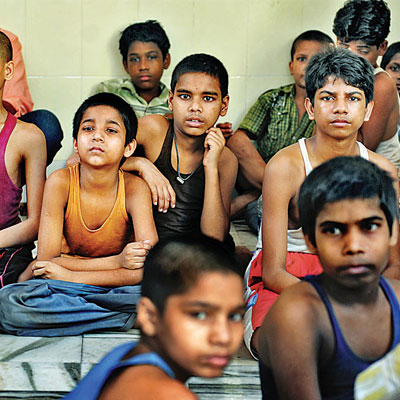 Taking cognisance of the growing number of child labour cases in the state, and specifically Mumbai, the Maharashtra State Commission for Protection of Child Rights (MSCPCR) has recommended the state to initiate stricter action against the employers. The commission has recommended that offenders be also booked under relevant sections of the Criminal Law (Amendment) and the Indian Penal Code.
In a letter to the state home ministry and labour department, the MSCPCR has said, "In spite of the use of children as labour being a crime, there is an increase in the number of child labour cases each day. The condition of children used for household work is like that of slaves. Employing child labour is like illegal trafficking and slavery."
The commission on Tuesday was hearing a complaint by Pratham, an NGO working in the field. Pratham has requested them to rescue the children employed at Sasoon Dock in Colaba to clean fish. In its complaint, Pratham's programme director Navnath Kamble said, "At Sasoon Dock, 652 children are employed to clean fish. They are made to work in spite of attempts by various organisations and meetings with parents and employers."
Currently, employers of child labour are booked under relevant sections of the Juvenile Justice Act and the Child Labour (Prohibition and Regulation) Act. However, the commission has raised concern as the punishment under these sections is not severe.
"Since the punishment under both these laws is not severe, there is no fear among the employers. Hence, the employers of child labour and the person and parents who bring the children to be employed must also be booked under sections 370 (1) to (7) and 370 A (1) and (2) of the CLA, 2013, and section 317 and 374 of the IPC," said commission secretary A N Tripathi in the letter. Under these sections, offenders can face imprisonment for seven to 10 years or life in case of trafficking minors or more than one person.
The state, through its district-level special task forces, has rescued over 5,000 child labourers of which 3,262 have been handed over to their parents while the rest are in state-run shelters. The task forces keep track of rescued children for two years to ensure they do not return to their old workplace.