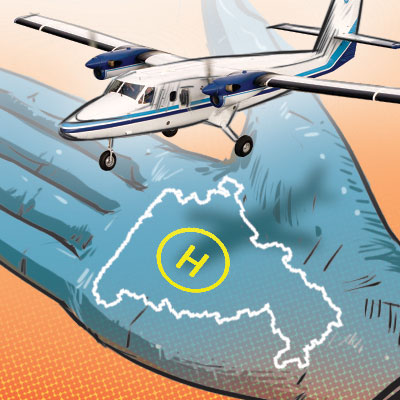 The government is trying to introduce easy and subsidised air connectivity from Juhu aerodrome to tier II and III cities in the state.
A high-level committee headed by chief minister Prithviraj Chavan is in advanced stages of talks with an aviation company in Andheri.
If the project gets implemented, it will be the first time that the government would subsidise air tickets to promote air connectivity. The committee had last year hinted at such a possibility.
The development comes after several such projects across the country failed to take off without state help. India, among the fastest growing aviation markets, has more than 450 used, unused, and abandoned airports and airstrips. So, the future lies in "regional connectivity".
A state official said the government would subsidise up to seven seats. "Senior government employees and bureaucrats might then use these seats for official travel," he said.
Supreme Aviation will operate two nine-seater Cessna Caravan aircraft (non-schedule) daily from Juhu. It will cover cities like Amravati, Shirdi, Aurangabad, Nanded, Solapur, Ratnagiri, Karad, and Kolhapur. There will be night halts at Jalgaon and Kolhapur.
An Airports Authority of India (AAI) official who has held meetings with the state as well as Supreme Aviation officials said the project would boost air connectivity in the state.
"We are in discussions with the state over subsidising up to seven seats. So, it will not be difficult to fill the plane as the demand is high," Minesh Sompura, head, overseas operations, Supreme Aviation (India) Ltd, said.