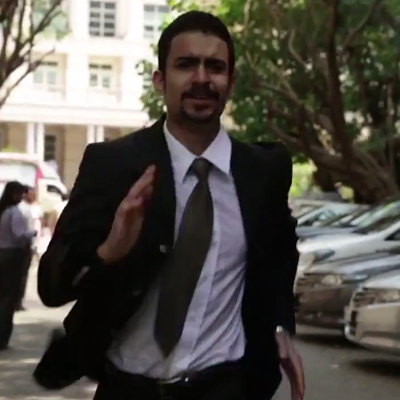 Genero which is a creative community dedicated to the music and advertising industries, launched an interactive music film challenge that allowed individuals from all across the globe to participate and make an out of the box video for three international musicians—Damon Albarn, Ellie Goulding and Aloe Blacc. The contest included 1821 projects, entries from 39 countries, over 5 days of footage, 53,621 decision points, over 10 billion permutation and combinations of choices. They did so in in collaboration with Interlude, The Lincoln Motor Company and the Tribeca Film Festival.
The jurors at the festival along with the artists, announced the results declaring Cziwonamor the winner from Poland, Szabomate90 from Hungary and Mohit Israney from Mumbai, India.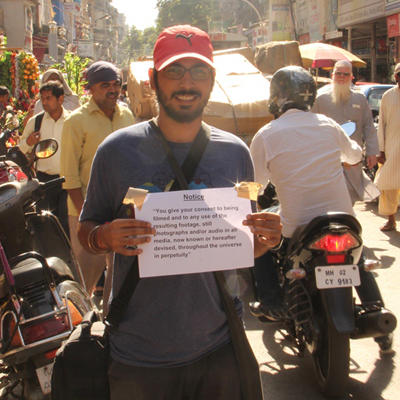 Mohit Israney, an Indian film director, screenwriter and producer, has been creating films of his own whilst working alongside as a first assistant director in the Bollywood industry. His recent music video for Aloe Blacc's – 'Ticking Bomb' has put his name in the pages of Tribeca Film Festival. While studying his Bachelors of Mass Media from RD National College, he got into filmmaking as an editor during inter-college festivals. From there on he started making films and never stopped. His lifelong dream is to make feature films in Hollywood. dna got in touch with Mohit Israney and asked him about the experience, his journey and what he plans to do next.
Mohit first went on to tell us how he got on to the project explaining, that they initially started working on Ellie Goulding's 'Dead in the Water', another music artist that was part of this competition. "I usually discuss all my ideas with my girlfriend Trisha Sarang (who lives in New York) as we connect on a creative level, we work together on all projects in spite of the time difference and the long distance. Despite days of brainstorming, we were unable to come with up with a concrete story."
But as they went on, they felt that the song just did not connect with them on an emotional level. However, when they came across Aloe Blacc's 'Ticking Bomb', they instantly connected with it and could visualise a guy running hastily to reach his destination. "We knew we had to stick with this song and began to add layers to the story. It was initially a love story about a boy and a girl who raced against time to meet each other at the moment they almost lose everything."
The concept fit perfectly with the theme of the music, Mohit explained but Trisha wanted something less clichéd, like a father-son relationship. "As a photographer, she shares the works of different artists with me, and while working on this video, she showed me the amazing story of an artist capturing his relationship with his father. The powerful images inspired us and moved us deeply, and then everything began falling into place."
With the change in characterisation and plot, the guy from the initial story was transformed into this rude, workaholic son who, Mohit felt, Ashish Thadani depicted perfectly. While the girl's character became the father beautifully played by Munawar Mohammed Mir whose only desire is to spend some time with his son before he dies.
With the concept and casting done, the next task was getting the film made. "This has been the most challenging project till date. Everything that can possibly go wrong has gone wrong with this project at every stage."When we conceptualised and started work on it, most of the people we collaborate with on independent projects were busy with other projects. So we had to search for people who would connect with the story."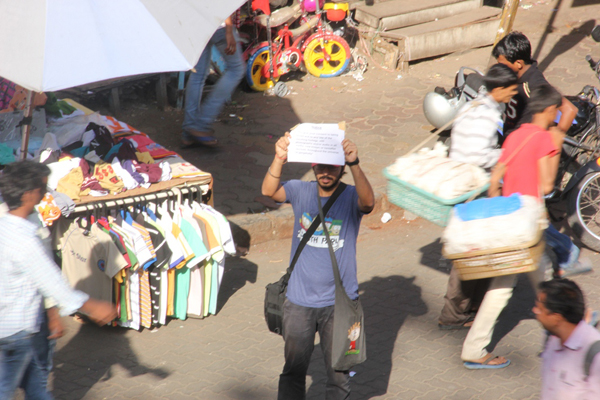 Mohit went on to say, there were several problems with the cinematography, the locations, and the final deadline was looming ever close. "We had almost called it quits, but things fell into place at the last minute." When they got in touch with Vikas Munipalle​, an experienced cinematographer, and explained the concept behind the film, he was immediately on board with the project. After that was done, the team began finalising the locations. With the last piece of the puzzle in place, the project really took off.
The next thing they had to do was begin hunting for the perfect actors to portray the characters Mohit and his team envisioned. "Almost everyone we consulted recommended Ashish Thadani for the role of the son, and when we met him, he fit the character perfectly, especially because he would be able to shoot all the vigorous scenes. He is very dedicated and asked us several questions that made us all understand his character so much better."
Mohit admits that they had a much tougher time finding someone to play the role of the father, but when he was discuss his troubles with his parents, they recommended their neighbour, Munawar Mohammed Mir. "Uncle Mir is 90 years old and has directed plenty of Marathi plays, so acting comes naturally to him. And he, too, fit our character to a T."
"Shooting the film was only half the battle, the real war started when we began editing it." Kalash Surana, the editor who worked on the film, joined the project at the last minute, but as Mohit explained his devotion and passion towards editing helped them extract all the magical moments of their shots. Rushindra Sinha, a friend and former classmate of Mohit's, combined forces with Kalash and, like musicians creating music, they worked in harmony and trimmed down the film from 30 minutes to 3 minutes 30 seconds.
But even after all the elments of the film were added, the editing and shooting done, when the video was uploaded and the interactive part was added to it, the video's timing was completely off. "This was our last obstacle towards the submission, since no one knew how to solve a timing issue that existed online." Mohit said that, him and his team started literally cutting frame by frame using online software based on their calculations to get it right. "It was the collective efforts of all the people involved that made this happen."
When asked about whether he expected such a positive response to the film, Mohit said, "We all were overwhelmed with the response and none of us expected that this would end up becoming such a powerful story that would resonate with the whole world. Everyone who saw the film loved the story and the characters that brought it out on screen. Each one could connect to Ashish's character that was too caught up with his routine life and also with Uncle Mir, who just wanted some love and attention."
In the near future, Mohit aspires to submitting a short film for Sundance Film Festival 2014, explaining that his future goal is to make feature films, everything else is just a stepping stone to get him there.
The artist Aloe Blacc tweeted about the film as well:
Take a look at the winning #TickingBomb video by Mohit Israney. http://t.co/rT88C7aXgK

— Aloe Blacc (@aloeblacc) May 2, 2014
Here is the interactive film:
Writer/Director - Mohit Israney
Concept/Story- Trisha Sarang
Producer - Rushindra Sinha
Cinematographer- Vikas Munipalle
Cast - Ashish Thadani (Son)
Mohammad Mir Munawar (Father)
Editors - Kalash Surana, Rushindra Sinha, Shiv Rawail
Color correction - Shiv Rawail
Production - Shruti Daga, Rushindra Sinha, Ashish Thadani and Kalash Surana
Camera Attendant - Ravi RK Vision
Special Thanks - Kalash Surana, Rushindra Sinha, Trisha Sarang, Naren and Neha Israney, Dr. Rakesh Sinha and Dr. Manju Sinha Women's Hospital, Mohammed Mir Munawar, Ashish Thadani, Yogesh Bulchandani, Shiv Rawail, RK Vision