Meet the creative Downtown girls behindACCESSED, who refer to themselves as 'event conceptualisers'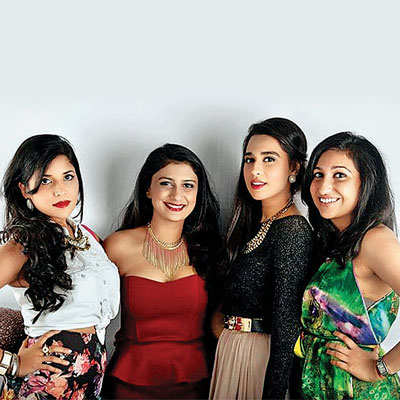 Waltzing into a fashion-meets-lifestyle event named 'State of Style' at a luxury hotel, carefully placed on the queen's necklace just a few months ago, dna rubbed shoulders with the who's who of the city, arching our eyebrows in awe at the intricately-detailed event put together in front of us – perfected to the tee, rather.
We eventually meet the fashionable organisers behind it all: Aditi Khandelwal and Surekha Rao, Mumbai girls who after a short stint in New York City, were determined to remould the events vista in their home city.
Their concept is plain sailing if we had to go by their words. "Doing things beyond the mundane, staying creative, and keeping things relevant," share the ambitious young girls. You would think of them as the Serena and Blair of Gossip Girl, but with less nasal accents and more approachable demeanour. In fact, the two business majors accidentally bumped into each other at an Alpha Kappa Psi fraternity event in New York University and the rest to them is incidental history. As Surekha's family chose to touch base with their 'Indian-ness' by moving to Mumbai, Aditi promptly left her job and moved onto what she believed would be "the next best thing in a city like Mumbai."
Young working professionals. Housewives. Kids. Their reach is a no-holds barred one and the trendy girls steer away from saturation like it were the plague. "Event managers pepper this city in every nook and corner and we know that we have to offer a unique selling point that will differentiate us from the lot." The twenty-somethings caught our attention as they lead us into their world of innovation and differentiated conceptualisation: "Think of it as an event with a twist you would not expect."
They have us clinching onto every word of theirs, as they lead us into a world of giddy events where bubbly meets fun and style meets innovation. A 'Cocktail War', where attendees were made to concoct their best take on innovative cocktails that eventually would feature in the menu of a prominent bar in Kala Ghoda, Cheval. Or an 'Alumni College War', where ex-students of various universities worldwide challenged each other at a range of rib-cracking games. Add to that 'Timeless Radiance', an event that highlighted the issue of ageing for women as the city is trying to steer away from Botoxed-faces and plastic smiles. Khandelwal and Rao know just which chord to strike with the residents of a city they know much-too-well.