Narendra Modi addresses the role of IT as a change agent for a young, new India at Nasscom.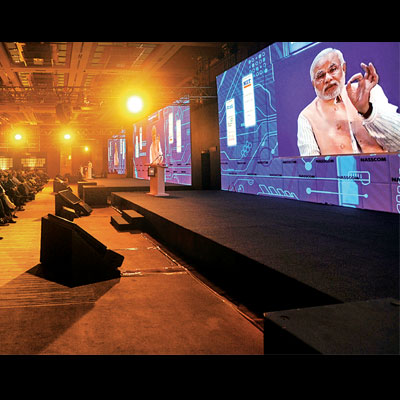 True to his charismatic style, BJP's prime ministerial candidate, Narendra Modi captivated a packed ballroom on the final day of Nasscom with his opening lines on the videoconferencing screen, "Ladies and gentlemen, it is a matter of great pleasure for me to address the Indian faction of Nasscom. While it is unfortunate that I could not be there in person, for want of time, your technology has enabled me to reach you."
Congratulating Nasscom on completing 25 years of its fruitful journey, Modi expressed hope on how IT could play a big role in addressing challenges to all round development of the country, though forward-looking technologies like e-governance, e-health and e-education. He also mentioned how technology could help bridge the digital divide between rich and poor, urban and rural, educated and illiterate – especially in a country where 65% of the population is youth .
Taking Gujarat as a reference, Modi said, "In Gujarat, we have started a programme called electronic manpower- or m-power, and within the first year itself, over 100,000 youth have volunteered."
He continued, "I see the role of IT as a change agent – it empowers, it connects, it can bind isolated parts of our country, it can bring harmony in society, it can join people with governments, it can encourage programmes, and reduce the gap between demand and supply."
Giving yet another example, Modi said, "Just like the British had once built bridges with railway lines, Information Highway Network Can play a very big role in transforming the nation today.
Going on to his vision for India, Modi said, "After eight years, India will be celebrating the diamond jubilee of Independence – by that time, we must be a different nation. Information technology can be the growth engine of this new India. My vision is that India should become digital, a knowledge-based society – in all aspects. Focus areas should be manufacturing, software instead of just hardware, cyber security, social media and CSR towards inclusive growth taking technology to the masses."
"That is why I keep saying IT+IT=IT, or Indian talent + Information technology is equal to India tomorrow. The IT sector can be the shining light of Brand India," coined Modi.
Finally on the touchy subject of government, Modi said, "Good governance has become a very heavy subject today and lack of good governance results in what we are facing today. Unfortunately, we have leaders who instead of bringing solutions, are further confusing the issues. Thus, e-governance is one of the greatest instruments of problem-solving power to the people as well the most effective forms of governance, bringing about people-empowerment."