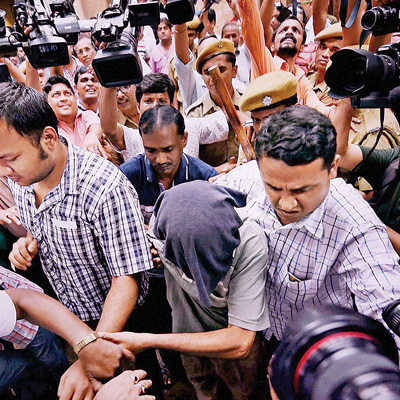 Zahid Hussain, the alleged Indian Mujahideen operative who was arrested in Kolkata on Wednesday, is suspected to have supplied explosives as well as fake currency, according to sources in the state Anti Terrorism Squad (ATS).
"Hussain's role in the terror outfit was logistical. He sheltered the persons involved and he was a conduit for goods coming from Pakistan into India, through the Bangladesh border," said a police officer. "He not only supplied the RDX but also provided fake notes of various currencies."
Hussain, a Bangladesh national, who is also suspected to have been involved in the German bakery blast in Pune, was picked up outside Kolkata railway station by the Special Task Force of the Kolkata police.
The officer said that Yasin Bhatkal, IM founder leader who was arrested in August last year for his involvement in bomb blasts in Pune, Hyderabad and Bangalore, had disclosed during interrogation that he had got RDX from a person in Bangladesh for the German Bakery bombing.
ATS chief Himanshu Roy said, "A team of officers has gone to Kolkata to interrogate Hussain, after which we will get a clearer picture of his role in the German Bakery blast case. We are also inspecting our crime records to ascertain his link in counterfeit currency cases."
Raja Thakare, special public prosecutor in the German Bakery blast case, told dna, "Hussain is suspected of supplying RDX and his arrest is an important aspect in the chain of events."
Seventeen people were killed and at least 58 injured, five of them foreign nationals, when a bomb ripped through the German Bakery in the Koregaon Park area on the evening of 13 February 2010.
Another officer said: "After Hussain's arrest the ATS has been asked to also probe counterfeit currency cases registered with the Maharashtra police, especially since 2010. Hussain was in touch with other IM operatives and his arrest will help the police zero down on other wanted persons."