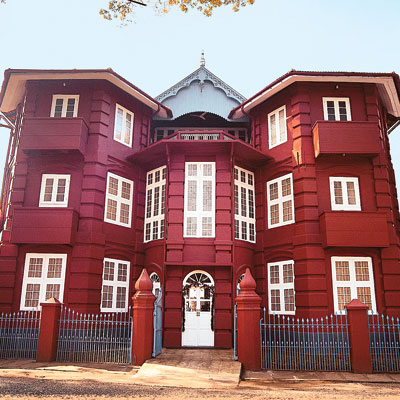 A crowd of policemen barricade the entrance to the Keneseth Eliyahoo Synagogue at Kala Ghoda in south Mumbai. It is Shabbat, the seventh day of the week for Jews, the day when the doors of the synagogue are thrown open to all to offer kiddush, the festive evening meal.
After some effort, I am allowed to meet Solomon Sopher, chairman of Sir Jacob Sassoon Synagogues and Allied Trusts and leader of the Baghdadi Jewish community in India.
"Police protection has been the norm since 2008," says 68-year-old Sopher, referring to the Mumbai terror attacks in which Chabad House was one of the targets. CCTV images are monitored in a second level of security.
Not much really to worry about
But Sopher insists he isn't a worried man. A passionate follower of the derby, he is glued to his laptop, placing bets even while talking about the symbiotic relationship between Indian Jews and Muslims. The former attorney general, Goolam Vahanvati, he says, is his partner in horse racing. Those who groom and train his thoroughbreds are Muslim too.
"Indian Jews have always enjoyed a harmonious relationship with Muslims. What's happening in Gaza won't change that," says Sopher. He points out that the grounds of the Sassoon trust-managed Magen David Synagogue in Byculla are open to Muslims on Ramzan and Eid.
India, our first love, is our fatherland
"Our first love is the country where we live and we've been here for centuries. Israel is our motherland, but India is our fatherland," he says with a smile.
The sentiment is shared by retired mariner Capt Samson Ezekiel. Samson is the nephew of Nissim Ezekiel, the noted Indian poet, actor, playwright and editor.
He's a Bene Israeli, the largest Jewish sect that's concentrated in Mumbai. Their numbers have dwindled since the formation of Israel. But Samson has no intention to resettle like others have done. "It would have been an option only if I had no other choice on earth," he explains.
Instigators provoking violence
Samson says his mother sometimes used to be vocal against Israel. He, himself, believes that Hamas is to blame for the current deadlock over Gaza, and points out that the kidnap and murder of three Israeli teenagers was the instigation.
He mentioned about the time when he had to fudge papers, showing he was Christian, so he could sail through Arab countries. It was a practical solution. But prod him on Jewish organisations like Jewish Voice For Peace and Neturei Karta which have been critical of the concept of a Jewish nation state and Samson says speaking against Israel doesn't make one any less of a Jew.
Support for the Palestinians
Kiran Nagarkar, novelist, screenwriter and playwright, whose father was a Bene Israeli, is critical of Israel's policies.
He has cousins in Israel and would love to visit them, but not any time soon. "If I go there I want to be a brother to the Gaza people and the Palestinian population," he says.
"I'm aghast that the very people who underwent the Holocaust are doing exactly the same (to others). Their mantra was 'Never Again', not to relive another Holocaust. Then a Jewish scholar asked: 'Never again for whom? The Jews or the entire world?' It's apparent that this is only for Jews. It's the Holocaust over and over again," Nagarkar says.
Hamas isn't helping the Palestinians
He believes Hamas is not responsible for the murder of the Israeli teenagers. This in light of tweets by BBC correspondent John Donnison, who reported Israeli police spokesman Mickey Rosenfeld as saying that Hamas was not to blame.
If Nagarkar's stance is anti-Zionist, Jonathan Solomon has an opposite view. Solomon, a senior partner at Mumbai-based law firm Solomon & Co, says the only reason there are fewer Israeli casualties in the conflict is the country's impenetrable defence system, the Iron Dome. Nearly all Israeli homes also have safe houses or bunkers that minimize risk to life, explains the chairman of the Indian Jewish Federation.
Hamas, Solomon opines, doesn't represent the true interests of Palestinians. He explains that regions governed by Mahmoud Abbas-led Fatah enjoy more peace. "This is not a conflict between Israel and Palestine. It's a conflict between Israel and Hamas, which is a non-democratic, terrorist organisation," he says.
Threat to Mumbai Jews only from outside
Solomon's view hasn't caused him any problem with Muslims. He recalls the time when Bene Israelis and Konkani Muslims lived in close proximity in Raigad. Even Mumbai, he says, is a good example of the amicable ties between the two communities.
Areas like Mazgaon and Byculla have significant numbers of people from all the three Abrahamic religions. At a time when anti-Semitic protests are rising in parts of Europe, he says India is the exception. "There's no threat here. The threat, if any, is from foreign organisations, as happened in 2008."
Dwindling numbers, Kochi sect nearly extinct
Some experts estimate the core Jewish population at only 5,000. The Baghdadi Jewish community, Sopher says, number just over 200. The little-known Bnei Menashe sect in Mizoram and Manipur are a few thousand. But it's the Paradesi Jew sect settled in Kochi or Malabar that is in danger of going extinct.
Mythili Menon, who researched the group with photographer Hari Menon in her upcoming coffee table book "Jews of Kochi", says only nine Paradesi Jews remain in the country. Of them, eight are octogenarians whose children or relatives have migrated to Israel or other parts of the world. "As they are old, they are not open to meeting and talking to new people," she says.
Koder House, a heritage boutique hotel, is testament to Kochi's once-rich Malabar Jew legacy. It was established by the eminent Koder family, whose descendant, Queenie Hallegua, is one of the last remaining Jews in the city.
Ask Hallegua what she thinks about the Gaza conflict and she says: "What's happening in Gaza is their problem. My ancestors have been here for over 400 years. I'm an Indian and always will be."