Born on August 6, 1986, IVF 'baby' Harsha Chavda wants an unusual present for her 25th birthday: a job.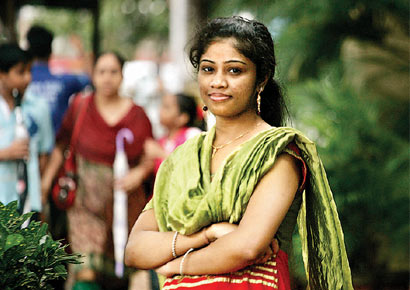 Exactly 25 years ago, on August 6, 1986, in Mumbai's KEM hospital, a young Mani Chavda gave birth to India's first test tube baby.
To mark her birthday, her daughter, the now 25-year-old test tube 'baby', Harsha Chavda visited Siddhivinayak temple on Saturday to seek the god's blessings.
"There is nothing unusual about me. I am like anybody else. But I will always feel I am special," says Harsha, a commerce graduate from Mumbai University.
Harsha had been working for four years in the back office of a private company in a clerical capacity, but was forced to quit the job two months ago when she was hospitalised due to an illness. Though fully recovered now, she is currently unemployed and looking for a job.
Harsha lives with her mother in a rented house in Jogeshwari. Her father passed away a few years ago, and she is the only earning member in the family. Says her mother, Mani, "I am proud to be the country's first IVF (in vitro fertilisation) mother. But I am not happy because my child is not. We are poor and have not been able to buy a home in the city. So we have decided not to celebrate the birthday, but just to visit the Siddhivinayak temple."
Recalling that memorable day, Dr Indira Hinduja, who delivered Harsha, says, "It was the happiest moment of my life. I was 35 then, and it took a lot of hard work to perfect the technique." She added, "Though this procedure has become very successful, not a single insurance company has shown interest in covering IVF."
Currently, IVF treatments cost between Rs1-1.5 lakh. Dr Nandita Palshetkar, IVF expert at Lilavati Hospital and managing committee member of the Indian Society for Assisted Reproduction, said "Women seeking this treatment want to know why insurance companies won't cover it." Answers ON Singh of Universal Sompo General Insurance, "Firstly, the IVF market is not big enough; secondly, the success ratio for this treatment is very low in our country. So its too risky for us."
—With inputs from Yogini Joglekar