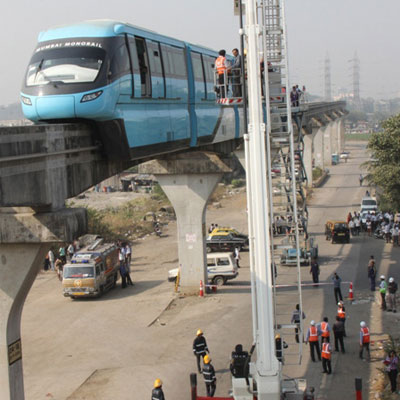 Even though Mumbai is all set to roll India's first monorail on Saturday, areas outside stations are in a complete mess. Incomplete Station Area Traffic Improvement System (SATIS), unavailability of auto-rickshaw and taxi stands, missing escalators, narrow roads, and lack of lighting below the monorail corridor are going to take away the shine from the much-awaited public transport system.
"Final works are underway for SATIS and in a month's time it should get completed," said UPS Madan, metropolitan commissioner, Mumbai Metropolitan Region Development Authority (MMRDA). Under SATIS, the width of the pavement will be one metre and bus stops will be moved 50 metres away from station landings.
Bylanes will be used for parking of bicycles and motorised two wheelers. But there will be no space for four wheelers. Ideally, auto-rickshaw and taxi halts will be 50 metres away from station staircases, but the facility will not be available at all stations.
"We are trying for auto-rickshaw and taxi stands, but it will not be available at all the places," added Madan. The other problem is the lack of escalators at stations for another six months. When the project had started, there weren't plans to install escalators.
It will take four months to get delivery of this machine and another two months to get them working. There are seven stations between Wadala and Chembur, each of them will have four escalators – two from ground to concourse and two more from concourse to platforms.
RC Marg in Chembur also continues to remain one of the worst roads of Mumbai, little efforts have been made to remove the undulation of roads. The other alarming problem will be additional congestion of the roads below monorail stations. "Entry and exit of commuters at the stations combined with halting of auto-rickshaw and taxis will surely create congestion. Chembur monorail station will be one of the worst affected," said Raj Kumar Sharma, an activist.
Similarly, it is dark below most of the stations making it a vulnerable spots. Illumination on the roads along the monorail corridor has decreased due to the guideway beams.From Sunday onwards, the monorail will be opened for public between 7am and 3 pm. The seven stations are Chembur, VN Purav/RC Marg Junction, Fertilizer Township, Bharat Petroleum, Mysore Colony, Bhakti Park and Wadala Depot.