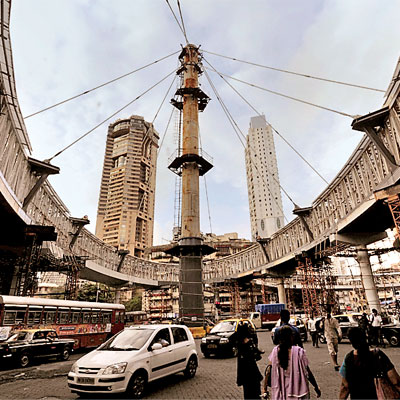 In a week's time the much awaited and much delayed, iconic Grant Road skywalk, will finally be opened for public. Till date the Maharashtra State Road Development Corporation (MSRDC) has been setting unrealistic deadlines for it's completion.
With the final leg of work underway at Nana Chowk, for the skywalk including installation of escalator, the development corporation now believes that the pedestrian bridge will now be ready before May 16.
"With majority of the work over, the oval-shaped skywalk will be ready for its opening in a week's time," said Anil Diggikar, managing director and vice chairman of MSRDC.
Construction work on Grant Road skywalk had begun in December 2008 and was scheduled for completion by June 2009, for Rs74.64 crore, but it's price has now over shot with the repeated delayed deadlines.
Designed as a cable stayed bridge, it hangs on a single column placed in the middle of the 650 metres long skywalk.
Currently, it is partially opened for pedestrians, only the oval shaped portion has being erected by the authorities. Once opened, the skywalk can be approached from five different locations - Tardeo, Kemp's Corner, Lamington Road, Girgaum Chowpatty and Opera House.
During construction, there has been several oppositions from the residents demanding the work to be undertaken only during day time. Grant Road skywalk is the most delayed project that has been planned in the Mumbai Metropolitan Region.