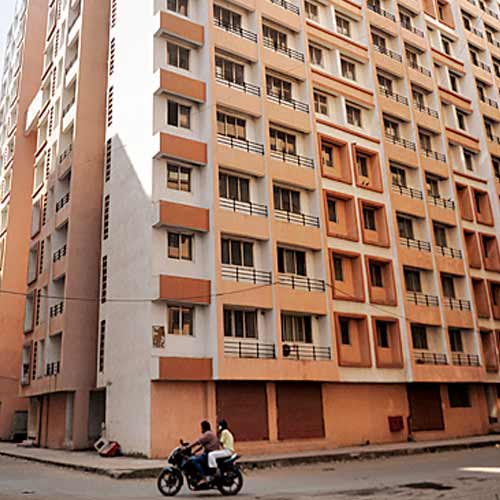 In a city where millions are homeless, it would be nothing short of criminal to keep thousands of flats meant for the poor vacant. But this is precisely what is happening in Kurla. In October, 2007, Housing Development Infrastructure Ltd (HDIL) signed an agreement with Mumbai International Airport Ltd (MIAL) on a national project for the rehabilitation of about 65,000 slum-dwellers living around Mumbai airport, who were impeding its expansion and posing a huge security risk.
About 275 acres of the airport land is encroached upon by slum-dwellers. As per the agreement, HDIL was to build self-contained tenements for eligible slum-dwellers along with the necessary infrastructure and hand them over free of cost. HDIL was to be compensated through transfer of development rights (TDR) certificates which can be traded in the open market and also by permission to commercially exploit part of the land vacated by slum-dwellers.
Sources in HDIL said, "For the last several months, 12,000 flats in Premier compound in Kurla (West), each measuring 269sqft of carpet area, are ready to be handed over to slum-dwellers.
Our project in this area envisages the construction of 32 buildings, each with 11-storeyed towers with all amenities including modern lifts. Apart from buying land in Kurla, we have purchased land in Bhandup, Andheri and other areas and have also surveyed the hutments. We have spent over Rs4,000 crore in acquiring 90 acres of land from private parties and in constructing thousands of tenements. We are willing to hand over the tenements, but it is for the government to decide who are eligible and who are not."
"Even as the issue of deciding who are eligible was pending, MIAL has terminated its agreement with us on specious grounds. When MIAL wanted us to accommodate 1,500 families which were affected by the Sahar elevated corridor project, we gladly agreed. But, MIAL has cancelled the rehab agreement for the airport project, accusing the company of delaying it. What earthly reason would we have to delay the project? In fact, the sooner it is completed, the faster we would recover our projected profits. The delay is not because of any fault on our side," the sources said.
Spokesperson for MIAL Vaibhav Tiwari said, "The matter is currently sub judice and hence I cannot comment on the issue." The dispute is before Bombay high court. However, sources in MIAL said that HDIL has already made over Rs2,500 crore by sale of TDR released to it. However, HDIL has pointed out that the sale of TDR has covered only a part of the Rs4,000 crore spent by it on the project so far.
"We have all the receipts, vouchers and other relevant documents to prove our claim of expenditure. We are committed to fulfilling the original agreement. But, MIAL should cooperate with us. This project is of national importance. The security of millions of passengers using Mumbai airport, which is among the busiest in the country, is in jeopardy because of the slums.
We will not risk our prestige by reneging on the agreement. It is MIAL which has gone back on its word,'' a senior HDIL official said. A senior police official said any terror group could enter the slums which are very close to the airport and target aircraft using shoulder-launched rockets.
"Mumbai airport is most vulnerable to terror strikes. The sooner slums are evicted, the better for passengers. Though slum-dwellers themselves do not pose a danger, slums can be easily penetrated by terror outfits," he said.
Local MLA Krishna Hegde of the Congress, in whose constituency a substantial portion of the slums are located, said, "It is sad that a vital project like this is embroiled in litigation. I tried for in-situ rehabilitation of the slum-dwellers, but the Maharashtra government is not in favour of it."
Meanwhile, the 12,000 tenements are laying idle and gathering dust. The slum-dwellers are finding themselves caught in the crossfire between HDIL and MIAL.