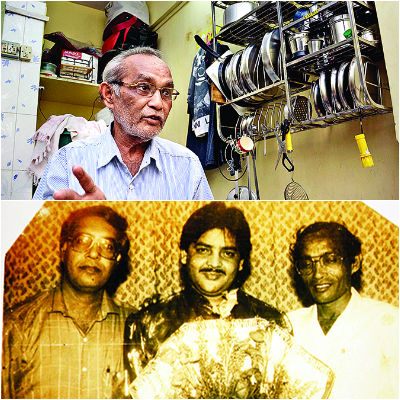 For Bharat Shrishtidhar Sen, life means dreaming about the past. The 65-year-old, who was a music director and owned an orchestra in the 70's and 80's, has been reduced to penury due to failing health and old age.
The senior citizen, who claims to have worked with Lata Mangeshkar, Udit Narayan and Abhijeet Bhattacharya, is confined to a one-room house in Khoja Galli area of Versova that has been rented by his elder daughter.
Sen landed in Mumbai in 1971 and started living in Bandra. Since he was keen to become a musician, he started his own orchestra – Bharat Sen and Orchestra. He says singers like Lataji, Mohammed Rafi, Manna Dey and Kishore Kumar had performed in his shows.
Apart from teaching music in several schools, Sen says he was roped in for three movies in 1973 and Rafi had sung a song in one of them. In 1999, he started a music company called Melody Cassettes.
"My company released nine albums of devotional songs in which singers like Udit Narayan, Sapna Mukherji, Sapna Awasthi, Alka Yagnik and Aarti Mukherji gave their voice. One of his albums was in Marathi language for which the writer of the lyrics was Shantaram Nandgaonkar," said Sen.
Father of two daughters and a son, Sen moved to Four Bungalows after his marriage ended in a divorce in 1997. He says while nobody kept in touch with him, he too got busy with his cassette company.
"Things went horribly wrong six years ago when I fell in the bathroom and fractured my left leg. Since then I have been staying with my elder daughter. I was bed-ridden for a year and also had to undergo hernia operation. This crippled my business," said Sen, struggling to hold back tears. He said said some unknown people had funded his hospital expenses.
However, the biggest worry for Sen is what will happen to him after his daughter's marriage. "She has been looking after me for past six years. She got engaged recently. Since this is a rented house, I don't know what to do after her marriage."