Painless high heels? Orbetter yet, a shoe that will fit those awkwardly large or wide feet? Downtown residents Karishma Hemwani and Tanvi Shah claim to have the corrective panaceato that.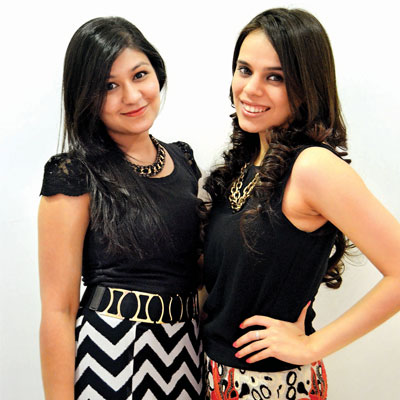 Ever wondered how two women with no inclinationtowards designing but with a sound business background have turned intosuccessful bag designers and now innovative shoe designers? Spiked heels withconvoluted names, flats in a palette of colours many of us did not even knowexisted – it turns out that women are somewhat wired to lust over shoes.Post-recession market research even suggests that while sales of every otheritem might have plummeted, sale of shoes, however, are on the rise. Thecuriosity surrounding Pedder Road resident Karishma Hemwani and Napean Searesident Tanvi Shah's career choice thus becomes self-explanatory. Think of itas cashing in on some sort of a supernatural effect that shoes have on women,all the while customising the shoe to the client's size and style. They wish tomake Metamorphosis, their brand of shoes and bags, a household phenomenon verysoon.
Long gone are the days when a designer-clad woman would storm out of a mall,disappointed at the fact that her feet might be a tad too wide for the delicateChoos she had been eyeing. It turns out that Hemwani and Shah have the answerto just that issue. "Human feet are so different in terms of sizes, which makesit exceedingly difficult to find shoes in sizes that fit everyone," theyexplain. "We in fact choose to customise a pair to our customers, where a womanwith an uncommon shoe size could easily be catered to!" they say.
Twenty-four-year old Hemwani and twenty-three-year old Shah took the plungeinto the fashion world two years ago; little did they know that theirexperience would be anything but a fleeting one. They had started off withdesigning bags that they claim were unique given their eclectic mix of styles."Karishma likes it subtle and classy whereas I am more experimental and bold,"shares Tanvi. The girls strongly believe in how their "different tastescomplement each other and resulted in a wide range of bags by the end of 2012."
Personally testing each shoe for its comfort and finish? Check. Blending Indiansensibilities and Western chic? Check. Aiming for a style statement? Check.Premium quality materials? Check. A quick look into their work, we validatesome of their points. A few more months of wearing the shoes, however, arerequired have to vet all their claims. However, what did catch our attentionwas the two-week time-frame within which they promise to deliver the shoe orthe bag of choice. How is that for accessorising your feet and your outfit,seemingly within an affordable budget and a two-week timespan? A sweet deal wethink. Still at a tender age, though the girls are yet to achieve their goals,the path seems to be paved.
To finish off, Karishma and Tanvi quote Christian Louboutin to justify theirdecision to delve into shoe designing: "A woman can carry a bag but it is theshoe that carries the woman." After some pondering and much deliberation overthe quote of the red-sole-designer, we begin to wrap our heads around that shoe fetish Karishma and Tanvi feed in to.