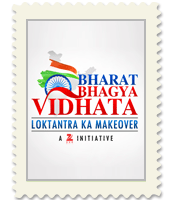 Gujarat chief minister Narendra Modi is the 'first among equals' in the BJP and the saffron party has found in him, a focused leader to bring the change the country is clamouring for, said Arun Jaitley.
The leader of the Opposition in the Rajya Sabha told this to guest anchor Ashutosh Rana on Nishane Pe programme telecast under Zee Media's Bharat Bhagya Vidhata initiative.
While Jaitley endorsed Modi's leadership as natural, he was all praise for party patriarch Lal Krishna Advani's role in building the BJP from the grassroots and nurturing the current generation of leaders, including Modi and himself. If Jaitley is to be believed, the party and its leaders still look upon Advani as their mentor and philosopher.
"Advani ji has given ideological direction to the party. He speaks for issues and not the individual. Post is immaterial for a leader of his stature. The party still looks upon him as mentor and philosopher." On a specific query on the likely role for Advani should the party win the next elections, he evaded a direct reply.
The party is betting on Modi's leadership to give its best shot at the hustings. "All parties project their best leaders to motivate the cadre and organisation. These are part of electoral calculations," Jaitley stressed.
He also categorically said that "if the party is strong, then everyone will come on board".
On the BJP's poll strategy, Jaitley said, "This election is not about arithmetic. It will be fought for change. We'll improve our strike rate in stronghold areas and focus on increasing our vote share in states with marginal or negligible presence."
Jaitley didn't miss to point out that Modi's rallies in Hyderabad and Trichy drew huge crowds. But, will crowd translate into votes? "Modi's acceptability is increasing across the country. Lakhs of people are turning at his rallies spontaneously," Jaitley responded to Rana.
The BJP leader who served as cabinet minister in various capacities during the Vajpayee-led NDA government questioned Congress leader Rahul Gandhi's stand against the UPA government's controversial ordinance to shield convicted lawmakers.
"Why did Rahul Gandhi intervene so late? If it was due to morality then he should have acted against the ordinance when it was taken up by his own government and cabinet. I think his current stand is just a damage control exercise."
On the viability of a third front, Jaitley dismissed it as a "failed experiment". The country's politics has polarised around two principal parties – the Congress and the BJP. Parties which are opposed to the Congress won't support them and will have no choice but to join hands with the BJP to give an anti-Congress government.
Jaitley, however, said that it's time politics in India matured. There is too much acrimony and investigative agencies have become a tool at the hands of ruling regimes.
"Politics of vendetta must end. There is a need to make investigation agencies more transparent and neutral. The BJP has taken a clear stand on the independence of CBI. Our governments whether in Gujarat or elsewhere have never targeted opposition to serve political goals," he said.
Jaitley defended the BJP's stalling the parliament as a pressure tactic to force the government to listen to its genuine demands for a Joint Parliamentary Committee probe into the 2G spectrum allocation scam or its demand for enquiry into coal block allocations. "Stalling parliamentary proceedings is a way to put pressure on a government which is not listening. It was done in national interest to highlight corruption," he said.