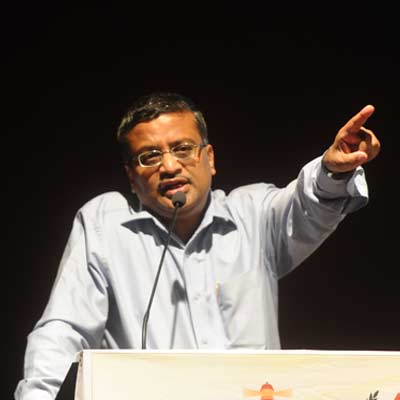 Denying the reports of him joining Aam Admi Party and contesting in the upcoming Loksabha elections, 1991-batch Indian Administrative Services Officer Ashok Khemka insists that he would continue to do his job till the age of 60 indicating that he will not even opt for voluntary retirement scheme to take a plunge into politics. "I will not join politics or Aam Admi Party. I will continue to do my job till the age of 60," says Ashok Khemka-an IIT-Kharagpur graduate- who was in Mumbai on Saturday to deliver a talk on 'How can citizens support those who work for governance, justice and equality'.
Being an IITian and an upright officer from Haryana, speculations were rife that he might join AAP and may contest for Loksabha or Haryana assembly.
Indirectly commenting on IPS Satypal Singh who recently quit from Mumbai Police chief's post, Khemka said, "If you are doing your duty nicely, no one would ask you to join politics. I will continue to cleanse the system from within the system."
He insisted that he was not a whistle-blower. "A whistle-blower is a person who is not supposed to expose the wrong-doing. I exposed corruption as part of my duty. Had I not done this job, it would have been dereliction of my duty."
Khemka is known for exposing the irregular land-deals of Robert Vadra and DLF. He has been transferred 44 times by Haryana government for raising questions against illegal happenings in various departments. Khemka is now facing CBI and CAG inquiry as well.
When asked if he expects more transfers in the remaining tenure, he cited, "Sarfaroshi ki tamanna ab humare dil me hai, dekhna hai zor kitna bazue qatil me hai" (I am ready for the extremes, let my tormentors show their strength).
He told the audience that 3-4% of the GDP directly goes in to corruption while no one has assessed the overall impact on people of the country. Strongly backing direct transfer schemes, Khemka said this would help corruption. More than 400 people attended the talk including several whistle-blowers, activists, scholars and employee unions who rendered their support to Khemka's fight against corruption. Khemka spoke extempore impressing the audience by explaining the nuances of corruption in several departments.
Khemka graduated from the Indian Institute of Technology Kharagpur in 1988 with a BTech degree in Computer Science Engineering and followed it up with a PhD in Computer Science from the Tata Institute of Fundamental Research, Mumbai and a MBA degree in Business Admn. He also has many publications on various subjects to his name.
He delivered the talk on "How can citizens support those who work for governance, justice and equality", organised by Moneylife foundation at Swantantrayveer Sawarkar Smarak Sabhagruh, Dadar.