A day after, Euphoria lead vocalist Palash Sen's comments at Mood Indigo at IIT-Bombay sparked widespread outrage on social networking sites, the premier institute blacklisted the band. Sen speaks about the incident and shares his thoughts on the entire controversy with dnaindia.com.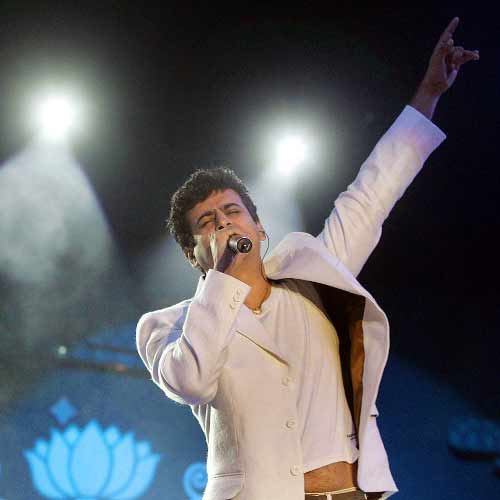 What exactly happened at Mood Indigo at IIT-Bombay?
It is very sad that something like this happened. There we were and a huge crowd was awaiting to hear us. Students have been waiting for this concert for years. Euphoria concerts are always very interactive. We interact with the crowd non-stop.
The blog stated that I said that there are no beautiful women in IIT, but what in fact happened was that I went on the stage and said 'Can I hear the voice of all the ladies here?' To this, all the boys in the crowd said there are no girls on the campus.
I was surprised to hear that and I asked them that who are all these beautiful women out here then. It was the crowd that said, "Sab bahar se mangvai hui hain".
Hearing this from the boys, I was stunned and did not know how to respond. At this point I said, "Don't say that guys. God's most beautiful creation is a woman. And if a woman is the most beautiful creation, then man is the most intelligent one."
The crowd was young and after hearing my comment when all the boys and girls started booing each other, I said, "Girls, look around you. Inme se kisi ek ke liye tum rotiyan banaogi aur inme se koi tumhare paon dabayega." I also said that if boys were all dumb, then why would there be a majority of boys at IIT-B? And then I went on to say that if men were not intelligent, how else would he appreciate the beauty of a woman?
I concluded the concert saying "I want all girls to work harder and get into IIT Bombay and I want all parents to encourage their girls to get into IITs." I was trying to address a very huge problem. Why aren't women in this country still not getting into professional colleges? I was trying to address a very big issue with what I said and people have gone out and made it into something else entirely.
What exactly happened with Arpita? Did you meet her personally?
Around 10 pm, my manager came rushing to me and said that Dada there was a woman back stage with a professor and that she was offended because of my derogatory remarks and I better apologise. I went on stage and asked the crowd if there was anything wrong with what I said. Everyone looked at each other with quizzical expressions. However, I apologised on stage saying, "If I have hurt anybody, I am sorry and for this person, I would like to sing a song." And I dedicated the song 'Kaise bhulegi mera naam' (laughs) to her. It was my way to reach out to her. She didn't accept my apology and posted on her blog that it was an apology for the sake of it. My problem with this lady is that she is going all out against me but refuses to speak with me.
After the entire controversy broke out on social media, I called my PR person and told him that this thing is getting out of hand. Please get in touch with this lady and I will sort out whatever issue she has with me. When my PR messaged her, she said that I don't want to speak with Palash Sen.
So far, I have maintained a silence keeping in mind her dignity. She is just a young girl. She and her friends have gone all out abusing me and my family, but no one from my band or family has used any profanity against any one of them.
But I will not spare all those who have abused my family and my band. I can accept if somebody abuses me, but I will not spare people who abuse my band, my family or my mother. I will not tolerate that.
Have you ever had an experience like this before?
No. Never in my entire career.
A lot of people are reacting to the incident on social media. What would you like to tell them.
See, somebody being called a sexist makes for a good story and if it is a celebrity, it is a great story. The funny thing is, on social media, everybody is king, everybody is a celebrity, everybody is an author. I am not bothered about what these people have to say about me. They are all cowards. Arpita has quoted me completely out of context and that's my biggest grouse. If she wants to be honest, why doesn't she put up everything that I said at that event.
We had a great show at IIT-B. We did a brilliant job and I think somebody didn't like it and Arpita is just being used as a pawn in the entire matter. I even offered to speak with her and tried to clarify the issue. It was she who refused to speak to me. If you really have a problem with me why not come up to me and speak with me. Instead, she chose to post a blog. It is strange that this woman is doing everything to bring me down but is not ready to face me.
After the incident, IIT-B has blacklisted your band. What is your reaction to the move?
They have not sent me any official statement. It is from media persons that I got to know about this development. It is really funny that none of these people are communicating anything to me. It is because they do not have the evidence. It is a Catch-22 for them. If they bring out the video of what I said, it will be proved that what they are accusing me of is completely false.
Besides, they do not have the rights to record my show. And if they have then they are sued any which way. This is why I do not see any point in issuing a statement. I have done no wrong. I am ready to have an open debate on the issue. But these guys are not ready to face me.
I think a huge cover-up is going on. The agenda behind all this is very fishy. Why aren't they talking about the fact that I dedicated a song to every mother, why aren't they talking about my apology.
If they were so offended by my remarks, why did they allow the show to go on for two-and-a-half hours, why did the students support me.
IIT-B has said that they will not allow you to perform unless you apologise...
I really saw the double standards of a premier institution. I will never perform at IIT-B unless they apologise to me. They are talking about equality and this is exactly I was addressing on the stage.
My problem is that if one person is feeling victimised, why not sort the issue out with the person concerned. Get a video or get a proof.
In this country, you can't speak about religion, you can't speak about caste, religion or reservation and now you can't even speak about girls.
I am a heterosexual Hindu man so where is the reservation for me. With all this, where is the room for equality.
How has your family reacted to the entire incident?
I think everybody is cool with everything except my 10-year-old daughter. She is a little distraught and the worst part is she is not even able to understand what is it all about.
I come from a simple, middle-class family. We all work very hard. We don't even have a domestic help at our house. So, for someone to accuse me of sexist remarks is absurd as even at home we share all the work.