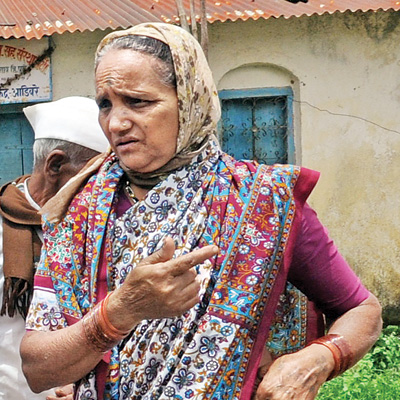 Like some desperate seeker for miracles, 65-year-old Narmada Zanjara goes around the flattened Malin village. Often looking to the heavens for succour, sometimes incredulously at the slushy mud that swallowed the village.
Narmada like hundreds of others have little to get from the heavens actually. All they had have been buried under the earth. The miracle seekers of Malin now keep looking to the earth.
Narmada Zanjare, a widow, lost 20 of her relatives — her 3 brothers and their families. Her two daughters escaped miraculously. She has been coming to Malin for three days since the landslide from Vishrantwadi, near Pune, to find if she can put together the threads of her life again.
Her face is numb with disbelief: "I never thought that my full family would be destroyed like this. All my brothers, their wives and kids are missing since Wednesday and I am helplessly going from one officer to another in hope of any news about them. On Thursday, due to the rescue operations, the police did not let us go till the spot of my home for the whole day and today I am going there again to check the dead bodies they have extracted."
Searching for the bodies of her dear ones is not what Narmada though she would come to Malin for. She has beautiful memories of her childhood in this village which now stretches out before her like a slush filled graveyard, with the flames of another cremation shooting upwards.
After hearing the news when she rushed to the village of her childhood where her brothers and their families were staying, she couldn't reach the village but was stranded 20km off the village. With pleading hands she went from one official to another. "Aata kunakade jau maherpanala…(whom do I go to now from my maternal side)," she wails.
Zanjare knows there is hardly any hope left now of seeing her family alive. Zanjare had married off two of her daughters in the same Malin village. One son-in-law passed away a few years ago, the other escaped the landslide narrowly as he had gone to have tea. Her daughters, too, are safe. Her three brothers and their families have been buried under the landslide.
Rescue officials have now allowed her to wait near the area being cleared. Zanjare comes in a rented vehicle with her daughters, neighbours and other relatives and waits patiently, hoping against hope. "There was only one ST bus that would come to this village. I always took the bus in the morning and came back by evening."
Malin village had 67 houses, out of which 47 were destroyed. It was mostly women and children who died as the incident happened early in the morning when most of the male family members had taken their cattle to the nearby hills for grazing.
For hundreds like Zanjare, Malin no longer has any life left. The hills may be green with rain but clouds of death and sorrow hang heavily.