When did your father, Madhusudan D. Kambli, start his career in making Ganapati sculptures?

Ratnakar Kambli: My father learned the art of making Ganapati sculptures under the guidance of his guru, Sadashiv Mungekar. It was he who taught everything to my father.
So, he did not get any formal education in the making of these idols?

RK: No, he did not. He learned everything on the job itself. He used to frequently visit Mungekar's workshop and watch his employees make different sculptures. It is through his observation that he started making his own Ganesha idols. Then in 1920, he started his own workshop called Kambli Arts which is still continuing his work.

What else do you remember about your father's work?

RK: One thing that I cannot forget about my father is that he rarely took money from anyone for his work. He used to think of it as social service and I respect that a lot. I still work under his principle but some amount is needed to make the idols of Ganesha, and that is all we take.

How did you get into this line of work? Was it your father's wish or your personal wish?

RK: You can say both. After my father passed away in 1952, my uncle, Venkatesh Kambli, took over Kambli Arts. By that time we used to make the Ganesha idol of Lalbaug. He took care of it for many years. After I completed my diploma in commercial arts from JJ School of Arts, I joined him. I guess watching my father and uncle make idols for so many years might be responsible for me getting into the family profession.

How does it feel to be one of the building hands of the world famous Lalbaugcha Raja?

RK: Obviously it feels good and I feel honoured that lakhs of people visit the idol every year and appreciate our work. But I want to make it clear that I do it because I have immense faith in Lord Ganesha. When my father was approached by the Lalbaug Sarvajanik Mandal to make the idol in 1935, he did not do it for the money or fame. We are believers of Lord Ganesha and it is our faith in Him that we continue doing work for him.

Has there ever been any problem with the Lalbaug mandal of any sort?

RK: We did not make the Raja from 1990 to 1999. There were some internal problems with the committee but I do not wish to get into that. However, it was sorted out later.

How did the people react to it?

RK: People were very upset. They loved our work so much that we got requests to carry on with the work. But due to some problem in the committee, it was not possible. However, when everything got back to normal in 1999, we continued with our work. It is the immense trust of the people that made us come back and do what we are good at.

You have patented the design of Lalbaugcha Raja. Why is that?

RK: I decided to seek a copyright for the idol because it is our family who originally designed this particular idol and have been making it for the past three generations. Since 1935, it is my family that has been supplying the idol to the mandal that is now famous as Lalbaugcha Raja. I have ensured that the look and design of the idol has not changed one bit. So what we do is, our workers keep the parts of Ganapati ready and one week before the start of the festival we assemble the murti and paint it. This way we try not to disclose the design of the murti till the first day of the festival.

You also make miniature Ganapati idols similar to the Lalbaugcha Raja. Tell us something about that.

RK: Over the years many people have approached us to make a similar miniature replicas of Lalbaugcha Raja, which is known as "likeness". In this, we make a similar murti in sizes of 2 ft 6 inches (30 inches) to 3 ft (36 inches) depending on the order. Many celebrities over the years, have made requests for the replica of the Raja. Of course there is some difference in the original and the replica but we try to keep it as similar as possible.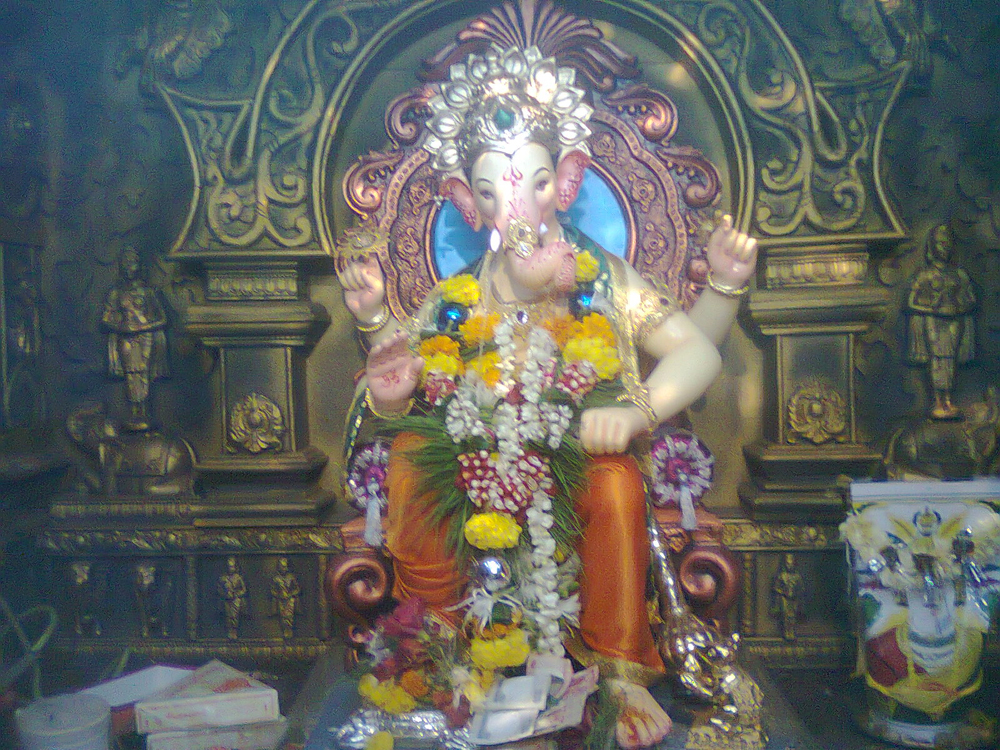 Who are these celebrities?
RK: We make the Ganapati idol of the Public Works Department (PWD) minister Chhagan Bhujbal's mandal at Mazagaon. We also make idols for Sanjay Nirupam, Shilpa Shetty-Kundra, Sanjay Narvekar, and Kedar Shinde.

Tell us something about Kambli Arts.

RK: Kambli Arts was set up by my father, late Shri Madhusudan D. Kambli in the year 1920 . Kambli arts started off by designing idols, murals, set articles, and as a matter of fact we were the first to introduce moving mannequins. Since then, our client base has grown from Australia to Switzerland to Holland (Netherlands) to France and USA. Every year at Shirdi on the occasion of Ram Navmi (birthday of Lord Ram), the whole team of Kambli Arts comes together with other designers, and designs the huge gate of Shirdi.

There is a lot of environmental concern due to the visarjan of murtis made up of Plaster of Paris (PoP) in the sea, Why not opt for eco-friendly idols?

RK: I get that a lot. But one must understand that the height of Ganesha idols is about 18 feet. So just think what its weight is going to be. If we use eco-friendly material, the murti will not stand. Also the weight will be incredibly heavy and it will be extremely difficult to move it during visarjan.

But what about the damage it is causing to the ocean and the marine life?

RK: When there is oil burst in the ocean, even that causes damage to the marine life. That time, the government cleans it up. Then why not do the same here? You cannot stop people from immersing Ganapati in the sea because it is our culture and tradition. This is how it has been for all these years and I do not think it will stop in the near future.

So what is the solution to this?

RK: All we can do is clean the water after visarjan. Like we clean the beaches after visarjan, same way clean the sea after visarjan.
(The interview was conducted in 2012)