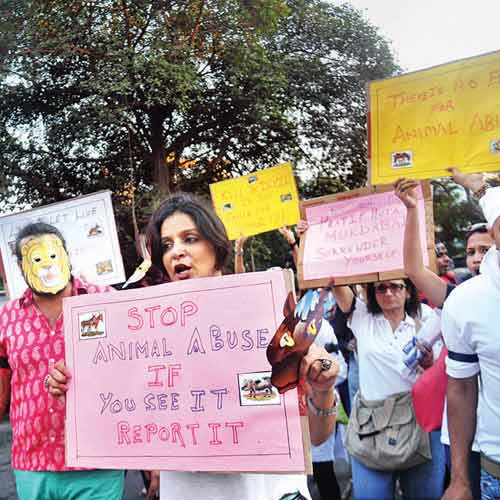 "We have no tolerance for violence against animals," said 27-year-old Tunali Mukherjee, a photographer from South Bombay who participated in the protest against animal cruelty in Andheri on Sunday.
The procession, which started from Nana-Nani Park in Versova, saw a crowd of around 100 animal lovers come together to raise their voices about violence against animals and gather support against one Pratik Hota, who had recently made a video of himself kicking a kitten like a football.
"People should know that there are laws protecting animals in our country and upon seeing any violence, they can report it," Mukherjee added.
The participants passed around pamphlets of laws against animal cruelty to children and adults alike as the morcha proceeded till they reached Hota's building, where they shouted slogans against the absconding youth, asking him to face the consequences of his unnecessarily violent actions. The boy was charged under various sections of the Indian Penal code, the Bombay Police act and the Animal cruelty act after an FIR was filed against him at the Versova police station.
"He is nowhere to be seen, people with mutual friends have indicated that he is still in the city, but is planning to leave soon. The police have told us they have already looked for him and that we should search for him if we want him brought to justice," said Zahara Ruhani, an animal welfare officer.