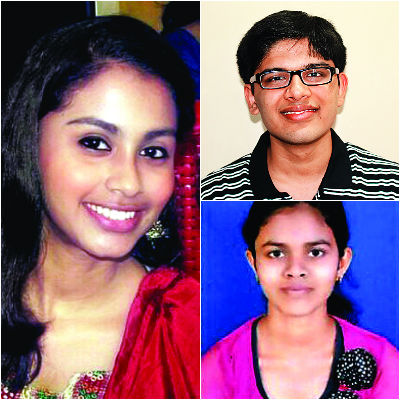 Though HSC 2014 results for Maharashtra, which were declared on Monday, came out slightly late this year, for toppers of their respective colleges in the city, the wait has been worth it.
Pace junior college student of science stream Parth Kothari is among them with 95.69%. Parth, who was busy attending the International Olympiad selection camp for chemistry, got the good news from his mother Reema.
Talking on behalf of her son, she said, "Parth topped JEE Main too and he also did well in his last JEE Advance. He wishes to take admission in IIT-Bombay in electrical or mechanical engineering. He wants to be like his father, who is a chemical engineer."
"Parth is very happy with his score, he secured 100/100 in maths, his best. He is also preparing for the Olympiad, which is a prestigious thing for any student," she added.
Meanwhile, Ruia college topper from arts stream is 18-year-old Rajvi Naik, who scored 88.76%. Naik is ecstatic to have scored 98/100 in her favourite subject, French. Naik, who completed her schooling from Udayachal High school in Vikhroli, developed a liking for the subject from Std VIII itself.
"In Std VIII, we were asked to choose between French and Sanskrit, and I opted for the former. Since then, I have been constantly improving in it. My basic French grammar was very strong, which helped me to attain my goal in Std XII. Also, my college took extra effort to ensure toppers revised the subject again and again by holding written tests," she said.
When asked about her career plans, Naik expressed her interest in teaching the subject. "I wish to complete my MA in English literature and, simultaneously, I am opting for French tuition classes. This will help me to teach English as well as French."
From commerce stream, top-scorer Apeksha Shetty (93.5%), a student of St Alloysius Jr. College of Commerce and Science, Nalasopara, secured the most marks in Organisation of Commerce, 97/100. "I am happy with my score as I was not expecting this percentage. Regular studies helped me a lot. Now, I am planning to do my BCom and concentrate on CS Foundation as I know there is a lot of scope in it," she said.