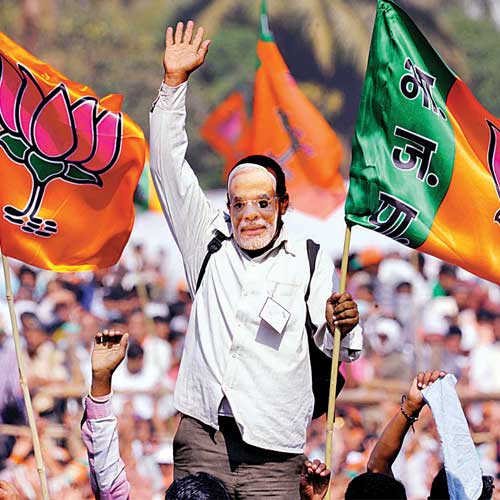 Trying to reach out to an increasingly assertive middle-class which has a significance presence on online platforms and is seeking to reclaim its place in politics, the BJP went in for an aggressive social media strategy for Modi's rally on Sunday.
This included live-tweeting and live-streaming of videos of the rally, and a separate enclosure for people, who had registered online apart from pressing into service "apolitical" volunteers supporting Modi for the country's top spot.
A survey earlier this year had claimed that social media could influence the outcome in 160 of the 543 Lok Sabha constituencies, of which the maximum — 21 were from Maharashtra. "We are working for Narendra Modi's ideology," said Ghatkopar resident Praful Bhanushali. The businessman said that though he had no affiliation to the BJP, he was rooting for Modi.
Bhanushali, who was volunteering to ensure crowd management and security at the rally, was part of the NaMo Brigade, which claims to be an "apolitical" group supporting Modi. "If Modi becomes the PM, India will be a superpower, this is 100% sure," said Bhanushali, adding that social media users wanted a powerful leader for the country to ensure "Singapore-like" development.
"We are bringing about convergence of social media with ground-level mobilisation," said Jiten Gajaria of the BJP's social media cell, adding that despite naysayers claiming that social media had little penetration among the "masses", who actually come out and cast their ballot, even a minor swing in votes could change fortunes.
The party had set up 12 tables from where volunteers, who Gajaria said were not party members, could tweet minute-by-minute updates. "There was lot of congestion in the network. We had to try many times before a tweet could be posted," said Bibeck Mishra, 25, a marketing professional and resident of Andheri. Since November, the party has been extensively using SMSes, emails, Twitter and Facebook to garner support for the rally.
Maharashtra Pradesh Congress Committee spokesperson Sachin Sawant said that while the BJP was banking on the online media to drum up support, work at grass-roots level was necessary to mobilise voters on the ground. He, however, conceded that online platforms were useful in reaching out to youth and first-time voters.