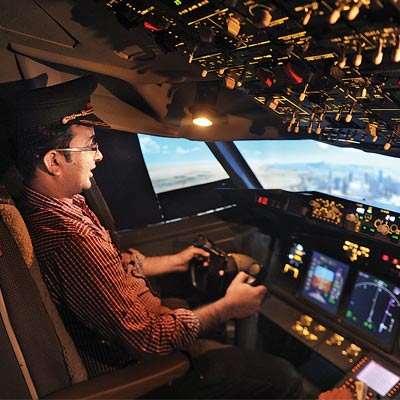 Standing at runway 12L of Dubai International Airport, with the world's tallest tower, Burj Khalifa, within sight, my Boeing 737-800 was all set to take off. With the engine buzzing and a controlled increase in throttle, the plane was up in the air, flying over Dubai. It took me a couple of minutes to realise that I was actually sitting inside a flight simulator in Kurla and not commanding a real aircraft.
The simulation centre in Phoenix Marketcity, started by two childhood friends, who are chartered accountants but whose real love lay in avionics and entrepreneurship, was opened to the public on Thursday. They had opened a similar one last year in Bengaluru, which became India's first.
The dictionary defines a flight simulator as a machine designed to resemble an aircraft's cockpit, with computer-generated images that mimic the pilot's view and the aircraft's motion. It's used to train pilots.
The 'pilots' at the simulation centre can experience the environment of flying a plane. After getting a dummy boarding pass from a smiling 'crew member', the captains of the aircraft, who are real pilots, take you through the basic instructions, along with providing you drinks and chocolates. You can choose a Boeing 737 or a Cessna or a fighter plane for 15 minutes up to an hour. The flight can be enjoyed by paying anywhere between Rs200 and Rs3,000, depending on the flight make and duration.
Once inside, I was given the charge of being the captain, which meant I had the last word over the aircraft's control. A staff pilot of the centre sat beside me, acting as a co-pilot.
The promoters told me the seats and control column (like a car's steering wheel) of the plane have been taken from the original aircraft after they were discarded as scrap. Even the liners (skeleton of cockpit) was sourced from a scrap dealer, but has been refurbished to make it look new.
After the initial manoeuvre, the flight was put on 'auto pilot' and I got a feeling of flying at over 5,000 feet. After 15 minutes, I started the process of landing and brought the aircraft to around 2,000 feet. At about 500 feet, I took over the control manually and touched down by reverse pulling the thrust handle. Only then did I realise that my heart rate had actually increased.