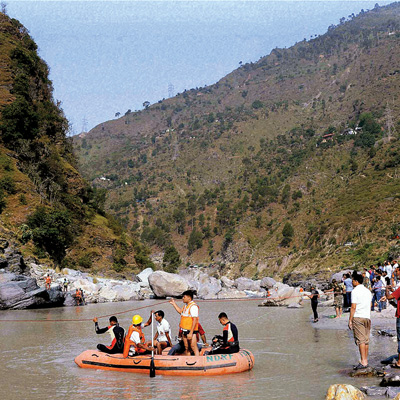 The horrific tragedy in Mandi, Himachal Pradesh (HP), which led to the loss of 23 lives is not the first. It may also not be the last given how no dam or reservoir in the country has any safety measures in place, says a new report by South Asia Network for Dams, Rivers & People (SANDRP).
It will be recalled that 25 people, including 24 students from Hyderabad, were washed away in a flash flood caused by the sudden opening of the flood gates at the Larji hydel project dam, 2.7km upstream of accident site at Thalout on the Beas river.
"In a classical thumri rendition, by Ustad Rashid Khan, he sings about how a river, once a friend, which has turned into a foe — Nadiya Bairi Bhayi... Something similar is happening at a number of places in India, where the river, a life-giving friend, is turning into a deadly force," rued Parineeta Dandekar of SANDRP.
The report mentions how on April 8, 2014, Radhika Gurung, 11, studying in Std IV was accompanying her sisters Chandra and Maya along the river Teesta near Bardang, Sikkim. Suddenly, without having any time to respond, all three schoolgirls were washed away by the force of the water released by upstream 510MW Teesta dam. While Maya and Chandra were lucky to be saved, Radhika wasn't.
"Locals say NHPC, the dam operator, does not sound any sirens or alarms while releasing water downstream for producing hydroelectricity and villagers live in constant fear of the river," says the report.
"Despite demands for strict action against NHPC, no action has been taken."
On March 28, 2013, five people, including two children aged 2 and 3 drowned, in the Bhawani river near Mettupalayna when the 100MW Kundah project (Tamil Nadu) on the Pillur Dam suddenly released 6,000 cusecs water. The family was sitting on the rocks in the riverbed when water levels started rising, and they did not get enough time even to scramble out of the river with the children, says the sole survivor.
"Officials admitted that although an alarm is sounded in the nearest hamlets, it does not reach downstream," says the report, which found locals saying no alarm is sounded. No action has been taken against any official.
On January 8, 2012, a family of seven including a child, drowned in the Cauvery river when water was released from the 30MW Bhavani Kattalai Barrage-II (in Tamil Nadu). The same day, two youths were also swept off and drowned in the same river due to this release. "There are no reports of any responsibility fixed or any action taken against the barrage authorities or Tangedco (which runs the project), although it was found that there was not even a siren installed to alert people downstream about water releases," says the report.
Uttarakhand has a history of deaths due to sudden releases from its several hydropower dams. In April 2011, three pilgrims were washed away due to sudden release of water from Maneri Bhali-1 Dam on the Bhagirathi in Uttarakhand. In 2006 too, three women were washed away by Maneri Bhali. The district magistrate of Uttarkashi ordered filing a case against the dam's executive engineer but nothing has happened.
Again, in November 2007, Uttarakhand Jal Vidyut Nigam Limited was testing opening and closing of gates of Maneri Bhali Stage II, when two youths were washed away by these releases. Following a protest by locals, the executive engineer and district magistrate simply issued a notice which said, "Maneri Bhali exists in the upstream of Joshiyada barrage and water can be released at any time, without prior notice."
Similar notice is also given by NEEPCO, which operates the Ranganadi Dam and 405MW Dikrong Power House in Arunachal Pradesh on the Assam border. "The gates of Ranganadi diversion dam may be opened at any time. NEEPCO will not take any responsibility for any loss of life of humans, animals or damage to property."
In December 2011, three youths drowned in the Netravathi when water was released by the fraudulently combined 48.50MW AMR project (Karnataka), now owned by Greenko. This has not been the first instance of drowning because of this project. Villagers accuse the dam for the deaths of as many as seven unsuspecting people in the downstream. This dam is now increasing its height and one more project is being added to it.
On October 1, 2006, at least 39 people were killed in Datia district in Madhya Pradesh when suddenly a large amount of water was released from the upstream Manikheda dam on Sind River in Shivpuri district.
There was no warning prior to these sudden releases and, hence, unsuspecting people were washed away. CM Shivraj Chauvan ordered a probe into this incidence in 2006, and a report was submitted by a retired HC judge in 2007.
"This report has been buried and attempts to access it have been in vain. The government has not released it, forget acting upon it or fixing responsibility after eight years," rues the report which asks, "Is it ok to have hundreds of dam-related deaths due to irresponsible and non-transparent dam operations and not have any responsibility fixed?"
Attempts to reach Union water resources minister Uma Bharati for comment drew a blank.