Even as the bustling city streets house thousands of children, living in subhuman conditions, few among us know (or care) as to how they came to be. Read on to find out
A recent survey conducted by Action Aid India found that the streets of Mumbai are home to 37059 children who work and live there.
While the report delved upon the deplorable conditions these children live in, more shocking statistics revealed how many of these kids ended up on the streets. It stated that around 43.7% children reached the streets with their family members, many even born and lived their lives on the city's roadsteads.
Runaway train
An astounding 50.8% children the survey-takers spoke with said that they reached the streets due to lack of opportunities at home or disturbed home conditions and relationships, indicating that they were possibly runaway.
Children from lower income families in villages and small towns frequently escape to the cities, away from rural poverty, in search of lucrative income sources. And while 7.7% of the children interviewed indicated that they had run away from home, truancy is still a large contributor to street children in urban cities.
Further conversations with these children revealed that poverty and hunger were the primary reasons these kids lived on the streets.
Take a moment to reflect on that last statement. In a rather depressing reality, about 13.3% of the children interviewed, ran away from home and live on the streets because they were too poor or starving at home.
The report found that around 15.8% of the children admitted they lived on the streets in search of jobs, income, or to pursue their dreams. "Whether these children were accompanied by family or not was not clearly indicated by the data. However, if corroborated with statistics of street living children, it may be inferred that these children were distanced from family," it stated.
Abuse and violence at home was another reason that prompted many to leave home. It accounted as the cause for 2.5% of children living on Mumbai street. The city's streets, though, were no respite from violence. About 44% reported witnessing or experiencing verbal, physical and/or sexual abuse.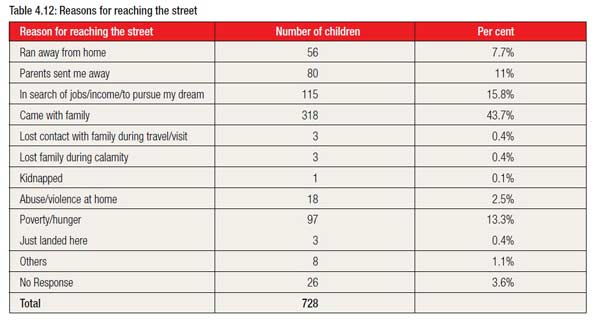 Abandonment and separation
A substantial 11% of the children also indicated that their parents themselves had sent them away from home. Children also reported separation from family due to calamity, or during travel and visits. About one percent of the children reported other reasons, such as being displaced from home by BMC and slum demolition.
The report further states that in 3.6% of interviews, no response could be elicited. But, this could be due to children's discomfort or their inability to express or remember reasons for being on the street.
Silent kids
A small percentage, about 0.4%, of the street kids reported that they had 'just landed here' and even fewer admitted that they were in fact kidnapped from their homes and brought to the city. Many of these children are brought into the city for as part of human trafficking network, for labour, flesh trade and sometimes even to be trained as criminals.