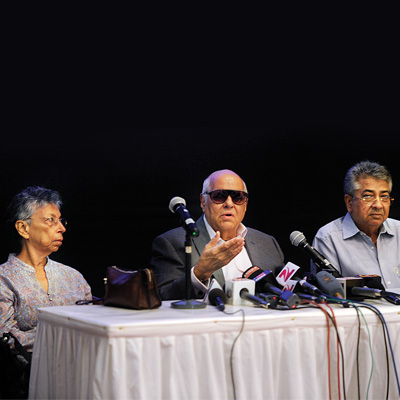 The Meherangir bungalow at Malabar Hill, where Dr Homi Bhabha, father of India's nuclear programme, lived until his death and later his brother, Dr Jamshed Bhabha, occupied, was sold for Rs 372cr at an auction on Wednesday. National Centre for Performing Arts (NCPA) owned the building.
The bungalow, sources said, has been bought by an individual of Indian origin. NCPA, however, refused to divulge details, saying s/he had sought anonymity. NCPA chairman KN Suntook said: "We don't know whether the buyer would preserve the structure or demolish it."
Reacting to the sale, Cushman & Wakefield, a real estate brokerage firm, in a statement said: "The sale of 'Meherangir' bungalow is significant because the bidding process did not attract developers. The bid was entirely led by limited end user/investors looking at creating personal landmark assets in the city. This was also the primary reason why the property was sold at a significantly higher value than the reserved price."
The bungalow is spread over an area of 17,550 sq ft. The base price was fixed at Rs 257 crore and initially eight parties had shown interest. However, on Wednesday only three turned up for the auction.
"The sales proceeds will be used by NCPA for modernising its theatres, upgrading equipment and expanding its activities, thereby fulfilling the dreams and legacy of Dr Jamshed Bhabha," said NCPA chairman KN Suntook.
A statement said: "Time has come for NCPA to match international standards and put India on the global cultural map. The proceeds of the sale will be used for that. Among the many future plans NCPA is working on, is starting an educational institution and create a bank of (musical) talents."
The auction had gone ahead discarding opposition from BARC employees, who had moved the high court seeking stay on it and directions to the state to take custody of the bungalow for being converted into a national museum.
Suntook said: "The sentiments of the community are completely misplaced. We are acting only as per the probated will left by Bhabha. If BARC had so much concern, it should have participated in the bidding."
Defending the NCPA stand, Suntook further said: "In several countries, including China, Singapore, and the UK, millions are spent on promoting the arts. It has a spiral effect—increased tourism revenue that will improve the quality of life of the people."
Prashant Worlikar, president, Atomic Energy Workers and Staff Union, was however, not impressed. He said: "It's a sale nobody can be proud of. We have moved the HC and will fight till the end. In foreign countries even a small poet's house is preserved. Here, the place where Dr Homi Bhabha lived was sold to upgrade a presumably well-established art centre. The government did respond to our calls, but should have acted speedily to stall the auction."