Five-year-old startup with 100 staffers valued more than SBI and Bharti Airtel.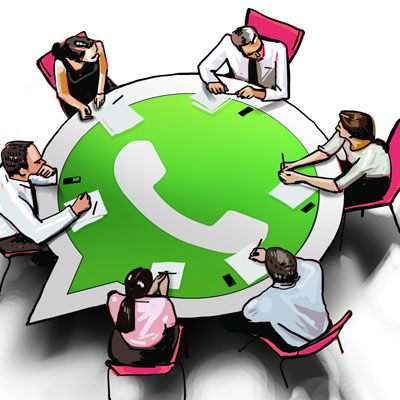 The Facebook takeover of WhatsApp for an overpriced $19 billion is worth more than or almost equal to the value of India's seventh biggest company, HDFC Bank ($20.4 billion). In fact, only six Indian companies are safely above the $20 billion mark by market cap.
To get an idea of the gigantic nature of the deal, which Mark Zuckerberg, 29, owner of Facebook, and Jan Koum, 38, owner of WhatsApp struck over dinner in the FB owner's Palo Alto residence in California on Valentine's Day, February 14, look at some of these facts:
WhatsApp with about 100 employees is valued at more than the price of Cairn India and Indian Oil Corporation Limited.
Hindustan Lever and ICICI bank have almost the same value as the deal figure.
State Bank of India, the pride of Indian banking, is valued only at $18.7 billion.
Facebook is valued at around $173 billion, which is almost thrice the value of India's topmost company Tata Consultancy Services valued at $69 billion.
WhatsApp is only five years old while State Bank of India, the largest public sector bank, was formed in 1956 from its colonial precursors
The amount is equivalent to the money lent by World Bank every year.
Truly, the world has changed and Indian companies can only gape in awe at how two or three people working in the US, can out-think an entire generation of Indian planning and building. Clearly there is a lot of catching up to do, most of all in trying to create an environment where thinking and creating can flourish.
So why is WhatsApp, a smartphone application, so big and why would anyone offer this kind of money to buy it?
Through WhatApp anyone can send an SMS for free if he has a internet connection. WhatsApp, which is popular in Europe, lets users send messages through its service on mobile devices based on various operating systems, including Apple Inc's iOS, Google Inc's Android, Microsoft Corp's Windows Phone and BlackBerry Ltd's software.
This means that Vodaphone or Airtel or whichever company is your service provider does not get any money for the SMS you send through the aap, though they get money for internet usage. In the first year, WhatsApp can be used for free, from second year onwards you have to pay Rs53 for a year, Rs145.38 for three years.
So popular has WhatsApp become that it adds a million user every day and is well placed to overtake Facebook. If FB hadn't taken over the app and let it flourish on its own, FB would have had a real threat on its hands in the next year or two. All that WhatsApp had to do was to convert it into a social media app as well and presto FB would have had a social media company with more users. Zukerberg commented after the deal that WhatsApp was well positioned to get a billion users.
Zukerberg said: "Whatsapp had every option in the world. "In other words a small app run from an office with 100 people had become a single window for the entire world."