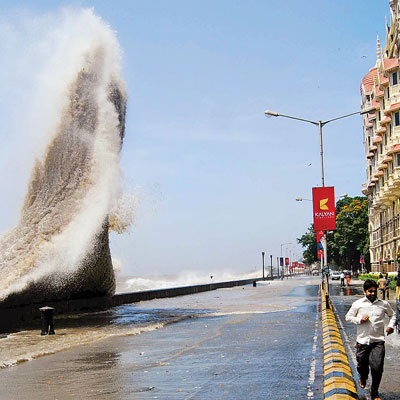 Mumbaikars were taken by surprise on Thursday, when they found water logging at certain areas of the city, without any rain. They later learned that sea water had entered the Gateway of India, Worli seaface Shivaji Park and Dadar Chowpatty because of high velocity winds, caused by a cyclonic storm, 650 km off the Mumbai coast.
Following the incident, the BMC's disaster management cell alerted the Mumbai police, the Navy, National Disaster Response Force (NDRF) officials and security guards to be on high alert for the next four days.
As per officials from the civic body's disaster management cell, they received the information from the Indian Meteorological Department (IMD) that the high tides and subsequent flooding was because of the high-speed winds caused by a cyclonic storm 'Nanauk', which spread over the east-central and the adjoining west-central Arabian sea.
According to the report, it would intensify into a severe cyclonic storm over the next 24 hours. "However, since it would move towards the Oman coast, no adverse weather associated with the cyclone will occur along the west coast of India," an IMD official said.
On Thursday, at 11.47am, there was a high tide measuring 4.38 mtrs. However, the flooding caused took the civic body's disaster management cell officials by surprise. "So far, there has never been flooding, even at a height of 5 mtrs. This is the first time that the sea water entered the city at this height," said Mahesh Narwekar, director of Information and Technology department.
Even though the cyclone has been predicted to move towards Oman, the effects are likely to be there till the next four days, especially on Friday. The tide on these days is expected to be over 4.5 mtrs. So, the BMC has decided to deploy 15 security guards at Gateway of India between 10am and 6pm.
"Moreover, fire brigade officials, NDRF jawans, lifeguards, and 15 security guards from BMC will be deployed at the Girgaum, Dadar, Juhu, Versova, Aksa and Gorai beaches each. There will also be a nodal officer present at the BMC disaster control room, to coordinate in case of any emergency," an official said.
"High tides are a common phenomenon. However, today, the sea water came into the city, because of the high velocity winds caused by the cyclone," said the official.
The traffic department of the city police had learned about the flooding after 3 pm. "For over one hour, the water was clogged on the roads. Traffic was held up for an hour, but now the situation is normal," said a traffic police officer.
Another officer from the department said that the traffic police has flashed a wireless message across all its stations that have coastal jurisdiction to put barricades so that people don't venture near seafronts during high tide.