PIL filed by NGO seeks sharing of Aadhar data with the Union Government to register voters.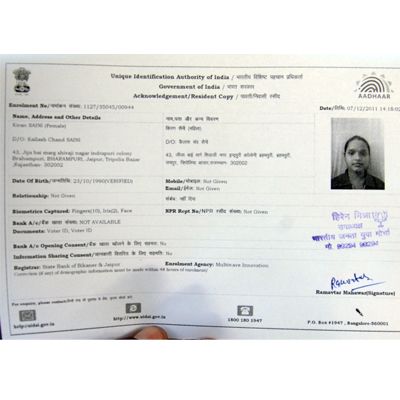 The Bombay High Court, on Friday, asked the Union government and the Election Commission of India (EC) to consider as representation a public interest litigation (PIL) which sought that data collected during the process to issue Aadhar cards be shared with the EC to be used for registering voters. The PIL was filed by NGO Matoshri Health Trust.
Jamshed Mistry, the advocate representing the NGO, said that as per RTI information, over 60 crore people had applied for Aadhar cards. "The government can share this data with the EC," said Mistry.
A division bench of Chief Justice Mohit Shah and Justice M S Sanklecha was, however, sceptical about this information being shared.
The Chief Justice said, "There are already certain objections being raised about sharing the data as details collected from people for issuing Aadhar cards are personal and should not be disclosed. If this data is shared with the EC, then there are chances of political parties having access to it."
Rajiv Chavan, the counsel for the Union government, said the process for registering oneself as a voter was on and the deadline had been extended. "Any person can come and get himself/herself registered," said Chavan.
The EC was of the view that the data collected for Aadhar cards do not include all the information that is required while registering oneself as a voter.
Accepting the arguments, the judges asked the Union ministry of information and technology and the EC to treat the PIL as a representation and consider it and pass appropriate orders within four weeks.