NGO plans to distribute food to thousands of hungry children on city streets.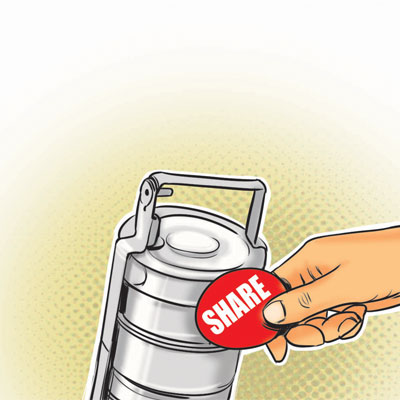 You no longer need to worry about wasting food if you can't finish your dabba because you have had a heavy breakfast or you are caught in a meeting at lunch hour.
The Dabbawala Foundation and The Happy Life Welfare Society will ensure it reaches a kid who might be forced to skip lunch because he doesn't have any. Through the 'Share My Dabba' initiative, the Dabbawala Foundation and volunteers will distribute food to thousands of hungry children on the city streets. All you need to do is, put a 'Share' sticker on your dabba.
"On their way back after collecting the tiffins, the dabbawalas will separate the boxes with stickers," said Abhishek Dinkar Ekal, vice president of the Dabbawala Foundation.
Volunteers will then distribute the food to slum children. They will also see to it that the food doesn't lose its nutritional value.
Explaining how the initiative is different from distribution of leftover food, organised by various associations with help from five-star hotels and
weddings, Kanupriya Singh, vice president of The Happy Life Welfare Society, said: "This won't be leftover food; you are willingly sharing your food with someone who needs it."
The Dabbawala Foundation, however, is different from the 130-year-old Nutan Tiffin Box Supplier Association. "We do not have enough people to deliver boxes. At such a time we cannot be involved in the initiative," said Raghunath Medge, the association president.
A video explaining the initiative has been viewed more than 260,000 times since it was uploaded on the Internet earlier this month. "Once the video became popular, we started getting requests to start the initiative in various parts of the city," Singh said.
Following requests, pilot runs are being conducted to fix any errors in the process before the project kick-starts.
Singh expects private tiffin services and office canteens to join the initiative. Those interested can get 'Share' stickers by sending an email to happylifewelfare@gmail.com.