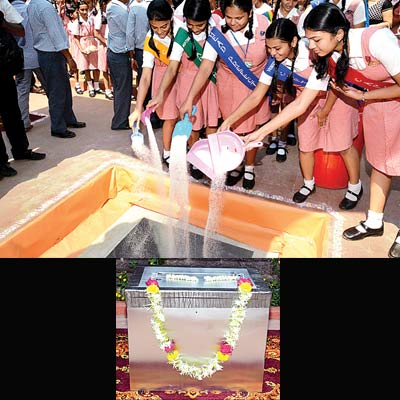 "Times must be different, the world must have changed. . . electronic media must be all important by now. Wonder if there are still books from which students study or do they study from iPads and laptops?? Or is it virtual learning? Well, I will certainly not know, but the joy and pleasure of reading a book can never be replaced! Do please encourage the use of the library of the school. It houses a treasure-trove of books, some very old and valuable," writes Freny Mehta, principal of Alexandra Girls' English Institution School, Fort, in her letter which was buried in the time capsule at the school premises on Monday.
Mehta's letter to the future principal is now a part of a trunk full of memories about the school's past, which are packed in a capsule made of 316L grade stainless steel. The capsule was lowered into a pit specially created for it near the entrance of the school. The capsule will be dug out almost 50 years later on September 1 2062, the school's 200th anniversary.
Several students too have written letters to the future students. "I have written about my first day at school. When I came in I was crying but by the end of the day, I had a smile on my face. I have also written about how my journey has been ever since," said Sakina Unwala, a class IV student.
The letters are written on an acid-free paper to ensure that they stay safe for half-a-century. Other things in the capsule include the school uniform, the badge, souvenirs created for the school's events, and the first annual report. Pictures, videos and several documents are stored in a weather proof USB stick.
According to Mehta, the school is the first institution in the country to have buried a time capsule. "There are only two time capsules buried in India, both in Gujarat. Ours is the first school to do so. We want to leave back a legacy for the generation to come," she said. The school will now register the capsule with the International Time Capsule Society, based at Oglethorpe University in Atlanta, which will ensure that it is dug out on the scheduled day.
School's history
The school was founded by social reformer, Manockjee Cursetjee in 1836, to raise the social status of women. Cursetjee started with teaching just 13 girls at his residence 'Villa Byculla'. Called the Alexandra Native Girls' English Institution shifted to Waudby road, now called Hazarimal Somani Marg, where it still stands. In 2013, the school celebrated its 150th anniversary with festivities through the year.