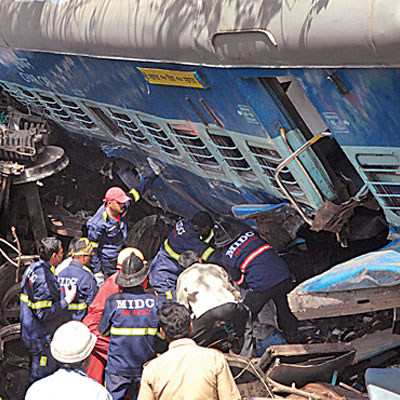 Help pours in for the three-year-old girl Samrudhi Nagte, who was injured in Diva-Sawantwadi passenger train accident on Sunday. Samrudhi not only lost her mother but also her right leg while her father is recuperating in LTMG Sion hospital and her elder sister is recovering in a Vashi hospital.
Dr Ashok Rathod the orthopaedic surgeon, who is attending to the minor said, "When she was brought to us, it was already too late for us to save her right limb. We had to amputate the limb below the knee."
After a week, the doctors will close her wound and after three months, fit an artificial limb.
"She inquires about her mother and father often. The girl doesn't know about her mother yet," said Dr Rathod.
Samrudhi's father is recuperating from head and shoulder injuries. Her elder sister, who is four-year-old is recovering from sever head injuries in a Vashi hospital. Her three-month-old youngest sister is the only family member to have escaped with minor wounds.
A doctor at Sion hospital has decided to start a fund for Nagte, as the girl will require many prosthetics. "The girl will keep requiring change of prostheses as she grows old. The family can't afford the cost and therefore, we will do whatever we can to help them. Help has already started pouring in and we would like to channelise this help for a long term benefit for the child," said Dr Avinash Supe, dean of LTMG Sion hospital.
Samrudhi's father Jayaram (38), works at a pest-control agency in Kalamboli, and has a monthly salary of less than Rs10,000.
"The CM has agreed to help Nagte in her education and for the prosthesis, which she will require in future," said Dr Suleman Merchant, head of the department of radiology.