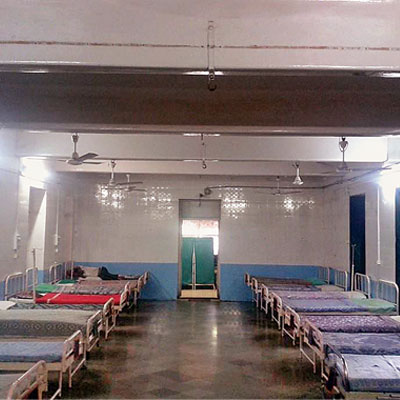 Mass strike by doctors across Maharashtra has led to a complete breakdown of health infrastructure.
In the state, 37 district hospitals, 80 sub-district hospitals and 363 rural hospitals have stopped functioning with 12,000 doctors being on strike for the past four days.
Non-functioning hospitals have turned away nearly 500,000 people from OPDs. At least, 100,000 patients are not being attended to. And 6,000 surgeries have been cancelled daily for the past four days. Also, 1,000 post-mortems have been cancelled daily in district hospitals.
In Mumbai, close to 15 doctors who conduct post-mortems at state-run centres of Cooper hospital in Vile Parle, Rajawadi hospital in Ghatkopar and Bhagwati hospital in Borivli are participating in the strike. "We are being asked to mitigate the situation by sending municipal corporation's forensic doctors. But the BMC hospitals too have a staff-crunch. Each centre receives at least 12 corpses every day. But only half the load can be catered to with replacement staff. Moreover, after 6 pm no post-mortems will take place," Dr Shailesh Mohite, head, forensic department, BMC-run Nair Hospital in Byculla, said.
State-run Thane civil hospital bore a forelorn and a haunted look on Friday. A hospital that usually teems with over a thousand patients every day had only 13 patients in the emergency care. Sonal, 11, with appendicitis, was the lone patient in the female surgical ward. "The beds are generally full. But with OPDs shut, we have not admitted new patients. Old patients have been discharged," said a nurse. "Sonal was operated upon in the emergency. We came all the way from Murbad as health services there too have collapsed," said Tarabai, Sonal's grandmother.
Underweight newborns are the worst hit, Dr Raghunath Rathod, additional civil surgeon at Thane civil hospital, said. On a normal day, the 16-bedded neonatal intensive care unit has close to 25 underweight newborns admitted. "We get admissions from remote corners of Jawahar, Wada, Mokhada, Kasa and other villages. Babies weigh about 500 grams, when their ideal weight should be 2kg. Fifty per cent of them die on the way."
Of 34 doctors working at Thane civil hospital, 29 have refused to turn up for work ever since the Maharashtra Association of Gazetted Medical Officers (MAGMO) strike commenced on July 1, coinciding with Doctors' Day.
All specialists, including gynaecologists, surgeons and orthopaedic doctors have entered the strike," Rathod said.
"We have no option but to turn away people. All our OPDs are locked for the past three days," Dr S Bhabhulgaonkar, chief anesthesiologist, Thane civil hospital, said.
MAGMO doctors have entered an indefinite strike and negotiations with the state are underway. MAGMO wants 821 doctors to be made permanent. Also they want central pay scale. "We are being paid close to Rs50,000 a month, but if central pay scale is implemented we will get Rs1 lakh a month," Dr Rajesh Gaikwad, president, MAGMO, said.
"We had clarified that certain benefits will not be extended to them. We are urging them to call off the strike," Sujata Saunik, health secretary, public health department, said.
At the time of going to press, the strike was on.