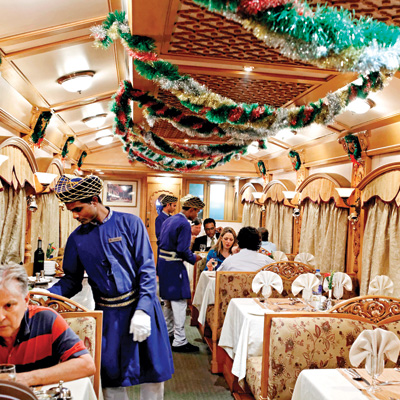 Want to visit Ajanta and Ellora or seek the blessings of the Shirdi Sai Baba or frolic in Goa? Now, travel to any of these places in style in the ultra-luxury train promoted by the state tourism department.
The 21-coach Deccan Odyssey train, which will have spas and bars, will run its first services (8 days/7 nights) covering Mumbai, Aurangabad (Ajanta and Ellora) Tadoba, Nashik, Kolhapur, Goa on October 4. And this time Cox & Kings will handle the operations.
The relaunch comes months after the Maharashtra Tourism Department Corporation (MTDC) cancelled its contract with a Delhi-based tour operator, who was handling the train's services, over non-payment of dues worth several crores.
There are various theme-based packages that will cover tourist destinations across Maharashtra, Gujarat, and other western and north Indian states. The 3 days/ 2 nights package tour from Mumbai to Shirdi has been christened Soul Quest.
Cox & Kings told dna that the maximum fare (presidential suite) for a 8 days/ 7 nights package tour would cost about Rs6.61lakh (considering $1=Rs60). The minimum fare for a 3 days/ 2 nights tour would cost about Rs1.26 lakh.
"We are trying to cover the maximum possible destinations in Maharashtra. With the new partners, we expect innovative ideas to flow. The contract will be initially for five years and can be extended up to 10 years," additional chief secretary Sumit Mullick said.
The train will have 21 cars (88 passengers) including one for holding business conferences, two dinning cars, two generator cars with luggage storage facilities, two cars to carry the staff and a spare car. Not to forget the spa and bar cars. Moreover, passengers will have access to TV with cable connection, music system, central audio system, foreign exchange facilities etc.
Package tours
Maharashtra:
Maharashtra Splendour: 8 days/ 7 nights covering Mumbai, Aurangabad, Tadoba, Nashik, Kolhapur, Goa
Maharashtra Wild Trail: 8 day/ 7 nights covering Mumbai, Nagpur, Pench, Tadoba, Aurangabad
Spiritual Sahyadri: 5 days/ 4 nights covering Mumbai, Nashik, Shirdi
Soul Quest: 3 days/ 2 nights covering Mumbai and Shirdi
Gujarat:
Hidden Treasures of Gujarat: 8 days/ 7 nights covering Mumbai, Vadodara, Palitana, Sasan Gir, Little Rann of Kutch, Patan, Ahmedabad, Delhi
Deccan
Jewels of the Deccan: 8 days/ 7 nights covering Mumbai, Bijapur, Aihole, Pattadakal, Badami, Hampi, Hyderabad
West and North India
Indian Soiree: 8 days/ 7 nights covering Mumbai, Ajanta Caves, Sanchi, Sawai Madhopur/Ranthambore, Jaipur, Agra, New Delhi
Indian Odyssey: 8 days/ 7 nights covering New Delhi, Sawai Madhopur/Ranthambore, Agra, Jaipur, Jodhpur, Udaipur, Vadodara, Mumbai
Golden Treasure: 4 days/ 3 nights covering New Delhi, Agra, Sawai Madhopur/Ranthambore, Jaipur, New Delhi
Indian Sojourn: 8 days/ 7 nights covering New Delhi, Sawai Madhopur/ Ranthambore, Jaipur, Agra, Sanchi, Aurangabad, Mumbai