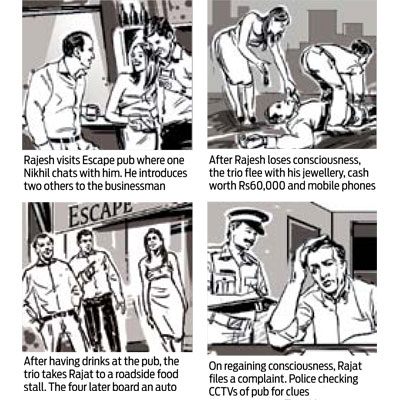 A 52-year-old Haryana-based businessman was robbed of his valuable worth Rs2.5 lakh by two men and a woman, who had allegedly spiked his drink in a pub at Lokhandwala, Andheri (W), and left him lying unconscious on the road on Saturday night.
The Amboli police have registered a complaint against the three unknown persons and are checking the CCTV of the pub to identify the trio.
According to police, the victim, Rajesh Bhatia, who is into textile business, came to Mumbai last week and he was staying in a hotel at Andheri (W).
"Bhatia visited 'Escape', a pub situated on Link Road in Lokhandwala. There he met one Nikhil, and after chatting with him for half-an-hour the duo become friends," said a police officer.
"Nikhil then introduced the other two accomplice as a couple to Bhatia. They were in the pub for around two hours and while leaving the couple offered him a drink. It seem that the suspects might have spiked his drink," said a police officer.
"After that they invited Bhatia on a road side food stall. The four then boarded an auto and after a few minutes when Bhatia lost consciousness, they took his jewellery, cash worth Rs60,000 and mobile phones," said a senior police inspector, Prabhakar Medhe of the Amboli station.
"The trio then fled with all his valuables. After a few hours, when Bhatia gained conscious, he approached the Amboli police," said Medhe.
"We have registered a case of robbery against unknown persons and are checking the CCTVs of the pub to get any lead on the three accused," said Medhe.