Craving for some cool treats this summer? Downtown has plenty ofspirited and exotic hand-churned ice creams for you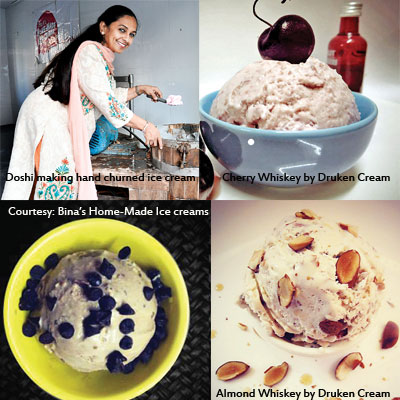 Hand-churned ice-creams had fallen out of favour awhile ago, when they lost the battle to their synthetic, artificially-flavoured, machine-made cousins. But they are back in vogue, thanks to two enterprising SoBo residents.
Sweet dreams are made of these
Putting his shoulder to the wheel, Mahim-resident Alok Rao—a freelance fashion designer by profession—has revived the good oldhand-churned ice cream by recreating the childhood frozen treats for a grown-uppalate. He has spurred an interest in people with his alcohol-based treats which use rum, whiskey, beer and liqueur to create delightful flavours like Coffee Oreo Rum, Orange Brownie Grand Marnier, Chocolate Beer, Blueberry Ginger Vodka, Chocolate Crème de Methe and Almond Whiskey. A thorough professional, Rao churns the mixtures by hand and adds alcohol while churning the mixture to prevent the ice creams from crystallising. According to him,"Alcohol does not freeze and curbs the formation of crystals. A capful of alcohol in every 500ml is enough!" Drunken Cream: Ice creams are priced at Rs462 for ahalf kg tub. Call 9702597405 for more details.
A scoop of happiness
Exotic ice cream flavours are this Napean Sea Road-resident's forte, who whips up lemon grass, green-tea, thandai and ginger crunch ice creams out of her kitchen at Hughes Road. What began as a hobby in2003, mushroomed into a full-fledged business six years later, in 2009. Fromthe humble kesar, pista and sitaphal, Bina Doshi now stocks 30 flavours like Rose Almond, Vanilla Brownie, Cinnamon and Choco Chips, Orange and Apricot, and Anjeer-pista. The regular flavours she stocks include seasonal fruit-based icecreams like Mango, Chickoo and Pineapple and the chocolate and biscuit varieties like Ferrero Rocher, Kit Kat and Oreo Cookies. When she started off, Doshiworked all by herself, but as her business expanded, she hired the services ofassistants and also purchased a machine to boil milk. "When I boil the milk, Ineed to keep stirring it. Now stirring 15-20 litres of milk is quite a Herculean task. So, I have purchased a machine that simplifies the boiling process for me," she says. Doshi sticks to orders to ensure that the ice creamsare as fresh as possible. "On an average I make 25-30 litres of ice cream a daybut I can scale up to 60 litres on a daily basis, if needed," quips the 60-year-old. Bina's Home-Made Ice CreamsThe ice creams are priced at Rs450-400 per litre. Forhome delivery between Mahalaxmi to Nariman Point, call 9930312999.
Crème de la crème
Run by a father-son duo, Taj Ice cream is known forits rich, creamy treats. It is probably the only ice cream shop in Downtown that sells Alphonso ice cream through out the year. This 120-year-old joint,which is tucked away in a by-lane in Bhendi Bazaar, stocks over 50 flavours,including Sitaphal, Strawberry, Mango and Chickoo. Recent additions include Roasted Almond with Choco Chips and Pan Masala. At Taj, they have devised at echnique to preserve fruits without tampering with their natural sweetness bymeans of a closely guarded secret of theirs. "They (Taj) still follow the tradition of hand-churning ice creams which gives it a great texture and flavour that is unlike machine-made ice creams. My favourite is Sitaphal," says Maya Shah, Colaba resident. Taj Ice Cream6/40, Bohri Mohalla, Bhendi Bazaar