Estimated loss to farmers put at over Rs 20,000 crore; In Nashik district, grape farmers the worst hit.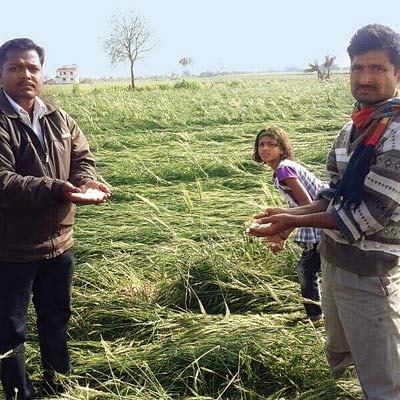 Unseasonal rains accompanied by gusty winds and hailstorm since a fortnight have destroyed standing crops of cereals, vegetables and fruits over four lakh hectares of land across eight districts in the Marathwada region. In Nashik district, hailstorms devastated crops in Malegaon, Kalwan, Nandgaon, Dindori, Niphad and Sinnar tehsils.
Divisional commissioner Aurangabad, Sanjiv Jaiswal, on Friday, asked all district collectors to assess the losses fast as a high-power team of central government officials was arriving to take stock of the situation.
Officials of the revenue department have estimated that the losses in Marathwada region would amount to approximately Rs 20,000 crore. As many as eight people died, 12 were injured and about 300 cattle-head perished.
In Nashik district, hailstorms last week devastated crops in Malegaon, Kalwan, Nandgaon, Dindori, Niphad and Sinnar tehsils. The rabbi crop in many ares was completely ruined with an estimated loss of more than Rs 300 crore to farmers.
"It destroyed almost everything. Grape farmers have been ruined. The harvest which was in the berry-plucking stage has been completely damaged. At many places, vineyards have been flattened, crushing the berry-laden plants. The layer of hail stones that remained for hours on the fields, froze the grape roots, giving the leaves and fruits frost bite.
"The rain water logged in the fields will decay the onion bulbs. Wheat and maize have been flattened. There isn't anything that can be saved. Farmers are now left with heavy debt and loans to repay. The situation is depressing," said Pushkar Hingne, a farmer from Chandori in Niphad, who is the deputy sarpanch of the village.
Villages hit most were Songaon, Berwadi (Ramnagar), Shingve, Karanjgaon, Tapadgaon, Bhuse, Manjargaon, Mhalsakore, Bagalwadi, Bhendali, Aurangpur, Khangaon Thadi, Tarulkhedle, Karanji Khurd, Bramhangaon, Talwade and Pimpalgaon Nipani.
Late on Thursday, hail storm and rains whipped areas in Malegaon, Nandgaon, Dindori and Kalwan destroying wheat, pomegranate, maize, gram, and other crops. Villages of Asoda, Wogale, Sakore, Jamdari and Kalmdari in Nandgaon; and Soundane, Malmatha, Sonaj, Takali, Mungase, Yesgaon, Mathurpade, Ajande, Bhuigavan, Khayade, Gilane, Malgaon, Jeyur, Nimbayati, Mehune, Chowkatpade and Sakore in Malegaon, and some villages in Dindori and Kalwan were affected the most.
The worst hit were the grape farmers, who were beginning to pluck the full grown berries. "The cost of production for one acre of grapes is more than Rs 1.25 lakh and for export-quality grapes, it's about Rs 1.75 lakh. Now, it'll be a huge loss," said Jaggannath Derle, a farmer from Bhandale in Niphad tehsil.
An upset Derle, whose four acres of export-quality grapes were destroyed, was almost in tears. "I had given out the vineyard to a trader, who was getting ready to pluck the berries. Till a day before, I and my family were happy that we had a good yield. Everything has been ruined. Now we are worried about repaying the loan taken for planting the crop," Derle told dna.
One farmer, Madhav Kondaji Gorade, 68, of Karanjgaon died of a heart attack early on Thursday after his four acres of grapes were destroyed.
Another person, Niivrutti Abaji Handore, 60, a resident of Shindewadi, who was out grazing his sheep, was caught in the hailstorm and unable to find shelter died on Wednesday (March 5).
Officials from the district administration and the agricultural department conducted panchnamas of the ruined crop. Farmers are, however, sceptical of anything positive taking place as they fear the 'code of conduct' in place due to Lok Sabha polls will come in the way of government helping them out. District collector Vilas Patil has, however, said he would take up the matter with higher officials and the Election Commission.