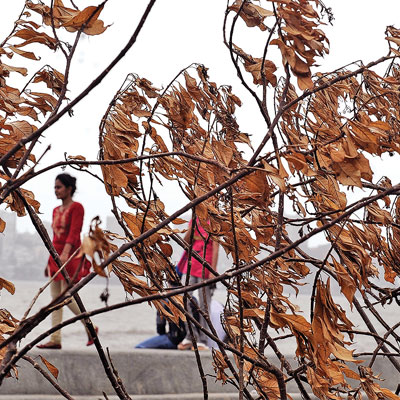 With the monsoon delayed and humidity levels rising, lakes supplying water to the city have reached the lowest drawable limits. The civic body is now seriously thinking about experimenting cloud seeding to check the yield.
Civic authorities have been constantly monitoring the speculations made by the meteorological department to check the possible dates when the catchment area will receive rains. Civic officials, however, knew well in advance that it would be a weak monsoon in April. But now the worry is the delay.
"If we see the average of the last 10 years, we receive 15% rain, but this time we have received only 3%. We are assessing the possibility and the quality of rain in the catchment areas," said Ramesh Bambhle, hydraulic engineer of BMC.
"By this time last year, city's water stock was 17%, but this year, we have almost 10% less than that, which is a matter of concern. It is high time citizens use water judiciously."
In its April 29 edition, dna had reported how municipal commissioner Sitaram Kunte had convened a meeting of senior officials from the water department and the MET department to discuss the water situation after he learned about the weak monsoon. Kunte had also announced that civic authorities would carry out a cloud seeding experiment to assess the yield from the process.
City has water stock only for the next 36 days and, if the heat and humidity levels increase, the stock may deplete faster. Till date, the water stock available for the city is 1,47,468 MLD (last year same time it was 2,91,700 MLD). The civic body started drawing 300 cusecs from Upper Vaitarna from Sunday. However, with the water stock at all lakes reaching closer to the lowest drawable limit, the level of Upper Vaitarna has reached even lower.
"Draft tenders are ready, we have completed all the paper work and procedures before inviting the tenders for cloud seeding. This year, we have included new conditions in the tender which stress on the age of the planes, sophistication and those equipped with hi-tech gadgets. Planes flying for less than 15 years are needed for seeding clouds, which will be brought in from the US," said a civic official.