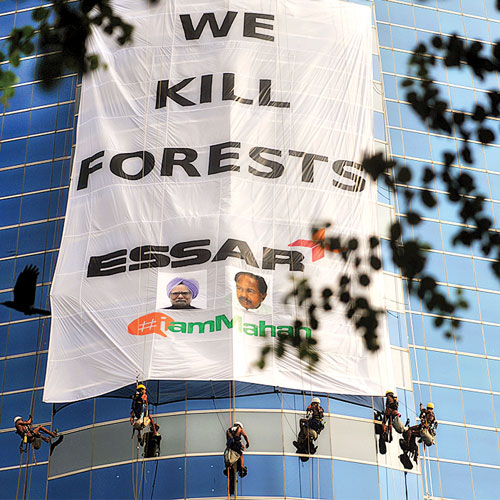 Sixty-seven Greenpeace activists were detained by the Tardeo police on Wednesday after 14 climbers illegally snuck into the Essar head office in Mahalaxmi and draped a giant banner that read "We Kill Forests" in protest against the proposed destruction of Mahan forests in Madhya Pradesh, where a coal mining project of Essar power and Hindalco Industries had recently received clearance from the environment ministry.
Out of the 67 activists, 14 were professionally trained climbers, 27 were locals from Mahan and the rest young volunteers from Mumbai.
One of the climbers Dhirendra Mulkalwar, 25, a composer from Mumbai and part of the NGO, said, "It was an out-of-body experience to be scaling that height and hanging there for over five hours, but our action was driven by our passion to save our forest and expose Essar and their violations in Mahan."
The 14 climbers apparently entered the building masquerading as cleaning agents and somehow got to the roof, where they let down the banner around 2pm. Six of them hung beside the banner in tiger costumes as a sign of protest. By around 7pm, all the activists were taken away by the police, while two fire engines and two rescue vans arrived to try and bring the climbers down. "After three hours of careful negotiation, we were able to convince the climbers to descend before the light went against us," said Pratap Rahangdale, deputy fire chief.
The activists were presented in the magistrate court, Girgaum; 12 climbers had an FIR registered against them for trespassing and attempt to suicide. They were freed on bail on Thursday.
"With a view to gain publicity for GreenPeace these people suspended themselves from the top of the building. ...they endangered lives of those working in the building and disrupted normal working of the employees", said Essar in response to the protest.